by
JosephKerski

Esri Frequent Contributor
Mark as New

Mark as Read

Bookmark

Subscribe

Email to a Friend
3 new hands-on lessons are now available, designed to foster inquiry, spatial thinking, and work with real data to understand our world that you are welcome to use and modify. I wrote these lessons specifically aimed at the secondary/university level students, as well as for faculty, but you can modify them for more advanced students and also for those at younger ages. Note: I improved the GIS for Beginners lesson September 2019 and the Living Atlas lesson March 2020.
In the first lesson, Change over Space and Time, you will explore themes that are near and dear to the heart of just about everyone who loves geography, history, earth and environmental science, and other disciplines, and examining change spatially and temporally is key to why GIS is such a powerful framework and toolkit. In this lesson, you will explore Landsat imagery, Sentinel-2 satellite imagery, and historical imagery; you will study migration at different scales, the Human Development Index, create a swipe map, and create a time-enabled animation map. All the while, you will build your GIS skills in querying, sorting tables, writing Arcade expressions, creating web mapping applications, and more.
In the second lesson, GIS for Beginners, as the name implies, you will quickly, gently but powerfully, be immersed in 10 key tasks. If you become familiar with these tasks, such as creating, saving, and sharing maps, opening tables, symbolizing, classifying, and adding data, you can do most anything in GIS. This lesson provides you and your students with an opportunity to conduct spatial analysis, including summarizing data, buffering, creating walk times, and creating routes.
In the third lesson, Teaching and Learning with the Esri Living Atlas of the World, you will dig deep into this rapidly expanding library of content, including its data layers, maps, and apps. You will not only use political, population, environmental, and historical data, but you will also discover how to join your own content to the Living Atlas, which opens up innumerable new possibilities for spatial thinking, access to data, and analysis. This lesson is a prelude to a more extensive set of courses that I am creating with my Esri colleague, of which 1 is already published via the Esri Training site, specifically, here.
I have provided these lessons as attachments to this essay in PDF format, but also as Word Documents so that you can modify these lessons to suit your own needs. I have also provided the introductory slides for your use as PDF files. I will be teaching these lessons in hands-on mode (the best way to teach them!) at the 2019 Esri Education Summit, but you are welcome to use them anytime. Have fun with them! I look forward to your reactions.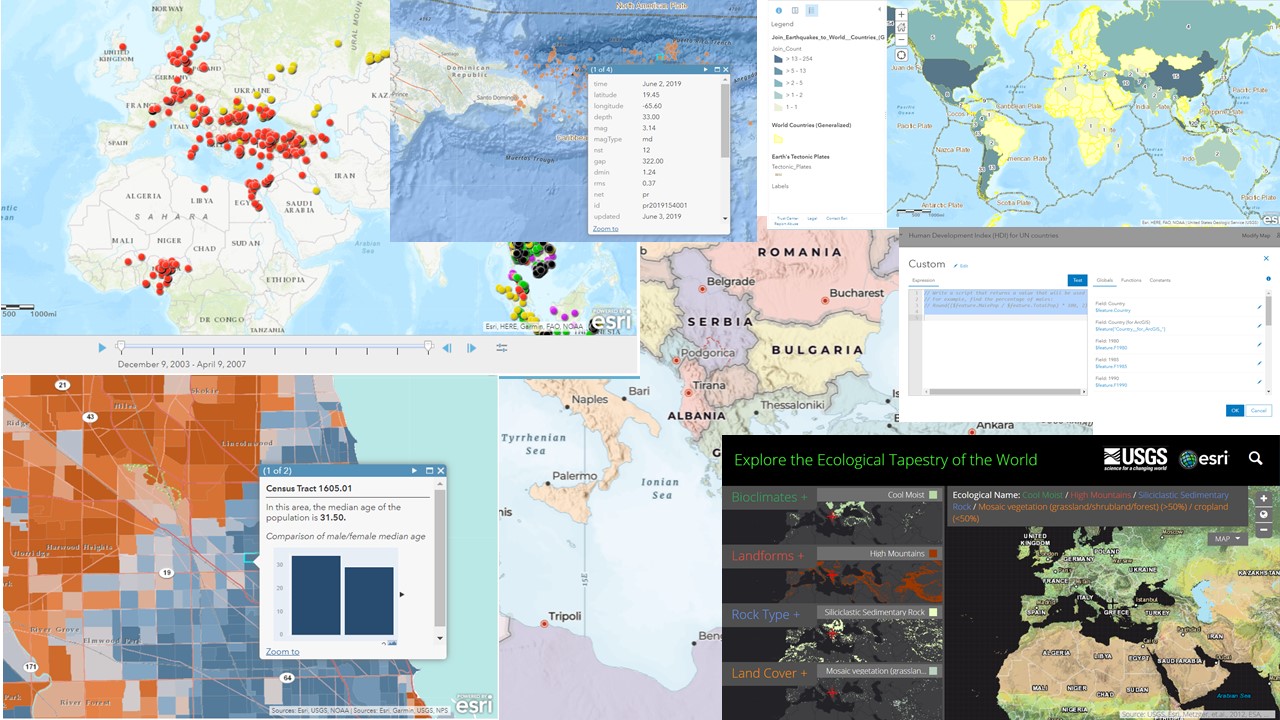 Just a few of the maps and data sets you can explore through these lessons.
1 Comment
You must be a registered user to add a comment. If you've already registered, sign in. Otherwise, register and sign in.