Mark as New

Mark as Read

Bookmark

Subscribe

Email to a Friend
Juneteeth, a federally recognized holiday in the United States of America, is on June 19th. Juneteenth recognizes the freedom of enslaved Black persons located in Galveston, Texas (USA) who were not freed from slavery during the Civil War. On June 19, 1865, two and a half years after President Abraham Lincoln enacted the Emancipation Proclamation, men, women, and children were able to walk free.
157 years later, and ancestors of the very same people who had been 'freed', still receive hatred and bigotry towards them due to the color of their skin. We must educate ourselves on the daily atrocities people continue to experience in present-day from understanding racial inequities, to environmental disparities, to equitable allocation of resources, and more.
We have compiled helpful resources to help inform, educate, and map inequalities, using geographic information systems (GIS) technology, where we can and must do better. These resources can be used by educators in K-12 and higher education, clubs, parents who homeschool their children, or in-home activities.
Esri's Racial Equity GIS Hub is an ongoing, continuously expanding resource hub to assist organizations working to address racial inequities. The Racial Equity GIS Hub includes data layers, maps, applications, training resources, articles on best practices, solutions, and examples of how Esri users from around the world are leveraging GIS to address racial inequities.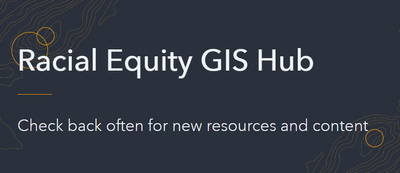 In 2020, Esri launch our Racial Equity GIS Hub. One year later, we reflect on the GIS community's incredible work, share new resources, and renew Esri's commitment to bringing the full power of location technology to bear in the fight against racial injustice.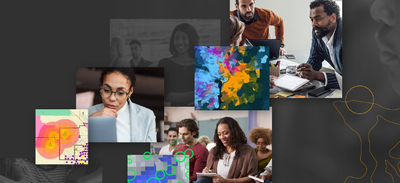 Esri is committed to advancing racial equity, social justice, and sustainable, inclusive development. Organizations and individuals are leveraging the power of GIS to understand racial equity in communities and make more equitable decisions. GIS provides insight into patterns of inequality and can provide common understanding across communities to affect positive change.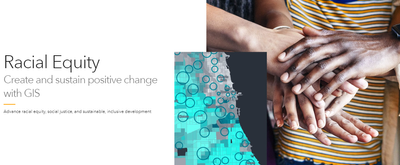 In this recorded webinar, you will learn how maps and spatial analysis provide insight into patterns of inequality and can provide common understanding across communities to affect positive change. Hear from the Esri Education Team and Esri's Racial Equity Team to learn about the free resources available to help scholars and students apply GIS methods to the study of racial equity.

One way to apply GIS to racial equity and social justice is with the Esri Maps for Public Policy, or "policy maps." According to Stephen Goldsmith, former mayor of Indianapolis and professor at the Harvard University Kennedy School of Government, "A policy map clearly shows where there is an opportunity to intervene." This growing collection of maps and other content includes social equity, health, economic opportunity, resilience, sustainability, environment and natural resources, and public safety.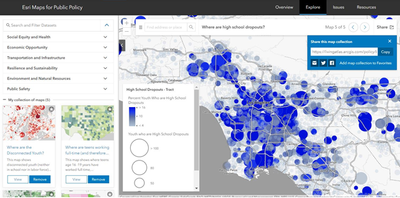 In this "Part 2" essay, let's dig deeper into practical ways of doing so and also discuss relevant issues that are inherent to using digital maps and data within a GIS environment.
One powerful capability within the modern ArcGIS platform is that you can map your own data. You can do this in a wide variety of means.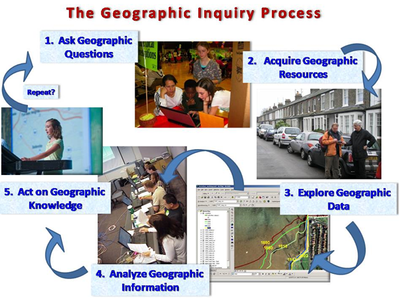 NorthStar's mission is to create a more racially-just world through a racially-just GIS. This organization works to connect with Black professionals working across all spectrums of the GIS industry, create solutions for your cause or storytelling content, and provide tools/resources about GIS careers.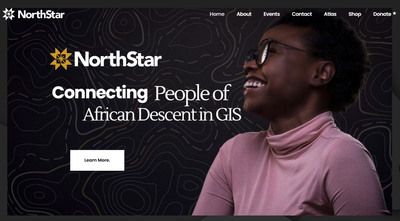 In this group, members can be part of a community of people who are leveraging GIS to advance equity and social justice. Group members can find the latest information and resources on this topic, connect with others, ask questions, participate in discussions, share their successes and challenges, and learn about relevant events.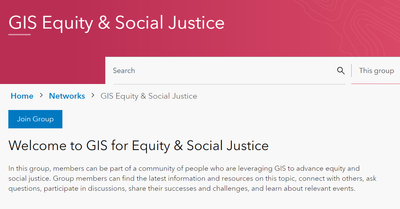 These are some of the many resources that Esri provides in helping to educate and understand the importance of racial equity and social justice. You can reach out to Esri's Equity team directly with questions at Racial_Equity_Team@esri.com.
We hope you find these resources helpful. Let us know in the comments how you may be using these resources in your classroom instruction.
You must be a registered user to add a comment. If you've already registered, sign in. Otherwise, register and sign in.