by
TomDeWitte

Esri Regular Contributor
Mark as New

Mark as Read

Bookmark

Subscribe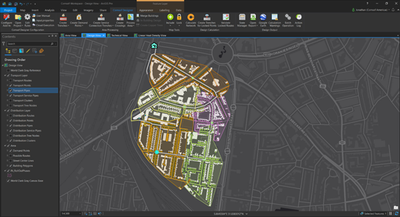 By Tom Coolidge, Esri; Tom DeWitte, Esri, and Kurt Marlein, Comsof
Esri and Esri partner Comsof continue to advance their offerings for district heating network operators. The latest advances are an industry-specific data model and an ArcGIS Pro planning and design plugin. This new combination speeds and eases the kickstart of any network buildout.
Cost Effective Planning
District heating is a key in the mix of next generation energies for a climate-sensitive world. But a district heating network rollout requires big investments. Leveraging a GIS system such as Esri's ArcGIS, coupled with Comsof's District Heat ArcGIS Pro plugin, allows growing district heating organizations to smartly plan system growth on a budget.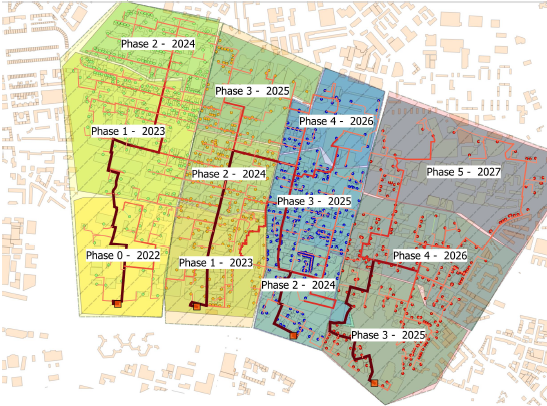 Comsof Heat - Analytical Result
This planning analysis includes recommendations for the size of pipes to be installed to meet the capacity requirements of the planned circulation zones.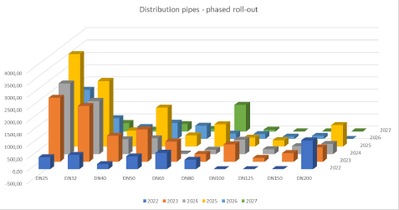 Comsof Heat– Pipe diameter recommendations
These analytical tools directly consume the building, street, infrastructure, and demographic ArcGIS data to perform this analysis.
Managing the Pipe Network
Esri's District Heating and Cooling (DHC) data model continues Esri's efforts to provide its customers with industry-specific template data models for maintaining a system of record of pipe networks. The DHC data model provides district heating and district cooling organizations with an implementation-ready configuration for Esri geodatabase data repositories. The data model allows organizations to manage the operation and maintenance information of all network components from the central plant to the customer meter. This data model template is provided as a free download for all to use.
Comsof is one of the Esri partners that collaborated in developing the new data model. Comsof recently also released a new plugin for ArcGIS Pro that provides extensive planning and design capabilities for district heating network operators. The planning and design stages are crucial as network rollouts require a significant investment. In addition, civil works can cause considerable nuisance to communities. A business case needs to be built, accompanied by a bill of materials, network visualization, scenario comparison, a rollout timeline and more. As this is complex and time consuming, more and more companies, authorities and engineering firms are looking for proven tools to plan these networks.
Comsof Heat is GIS-based software which produces all the above in great detail. Thanks to its smart algorithms this is done with great accuracy and speed. Because of its proven capabilities, this software has become the reference in Europe. The tool now offers a plugin for Esri's ArcGIS platform. This comprehensive geospatial platform securely stores ArcGIS data and has advanced capabilities to analyze and engage with data either over desktop, web, or mobile applications.
We encourage you to check out these new state-of-the-art capabilities. They can provide you with reliable, clear, and quick results to kickstart your district heating network buildout.
PLEASE NOTE: The postings on this site are our own and don't necessarily represent Esri's position, strategies, or opinions.
You must be a registered user to add a comment. If you've already registered, sign in. Otherwise, register and sign in.