by
MartinKrál

Esri Contributor
Mark as New

Mark as Read

Bookmark

Subscribe
Při práci v enterprise SDE geodatabázích, ve kterých existuje více vlastníků dat (respektive schémat s daty) a zároveň větší množství tabulek, které si uživatelé navzájem zpřístupňují, může být obtížné orientovat se v rozsáhlém seznamu objektů v katalogu ArcGIS Pro a umět jednoduše dohledat vlastní geodatabázový objekt, třídu, tabulku nebo relaci.
Od verze ArcGIS Pro 3.1 je nicméně možné, podobně jako tomu bylo v aplikacích ArcMap a ArcCatalog, filtrovat geodatabázová připojení tak, aby se připojenému uživateli zobrazovala pouze jím vlastněná data.
Filtraci je možné ArcGIS Pro aktivovat v nastavení aplikace:
Project – Options – Catalog Browsing (Application) – Browse project items
Zde zaškrtneme volbu List only objects owned by the connecting user.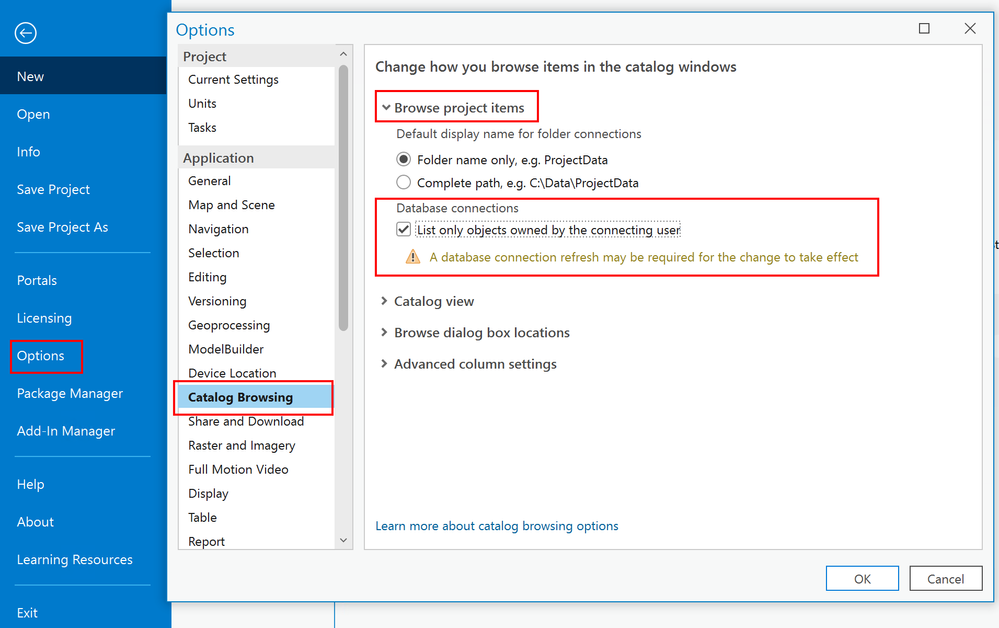 Po znovunačtení databázového připojení se objekty v katalogu zobrazí dle upraveného nastavení.
Existenci této možnosti v nastavení je dobré mít na paměti i z dalšího důvodu – pokud začnete mít pocit, že pod databázovým uživatelem v katalogu nevidíte objekty jiného vlastníka, který vám k tabulkám nebo třídám udělil práva, je vhodné nejprve zkontrolovat toto nastavení a vyloučit, že zpřístupněné objekty nejsou ze seznamu takto vyfiltrovány.
You must be a registered user to add a comment. If you've already registered, sign in. Otherwise, register and sign in.