Occasional Contributor III
Mark as New

Mark as Read

Bookmark

Subscribe

Email to a Friend
PEGELONLINE stellt gewässerkundliche Daten der 589 Messtationen von Binnen- und Küstenpegeln der Wasserstraßen des Bundes in einer Reihe von kostenlosen Webservices bereit. Esri Deutschland stellt ab sofort die jeweils aktuellen Pegel-Trends und Wasserstände sowie das Verkehrsnetz der Bundeswasserstraßen als Feature-Service in ArcGIS Online in der Gruppe Esri DE Open Data: WSV kostenlos für Analysen bereit. Die folgende ArcGIS Online Webkarte Pegel Monitoring zeigt die tagesaktuellen Trends und Wasserstände MnWMhW zusammen mit dem Bundeswasserstraßennetz, durch Klicken auf die Meßstellen oder Wasserstraßen erhält man weitere Informationen in PopUps.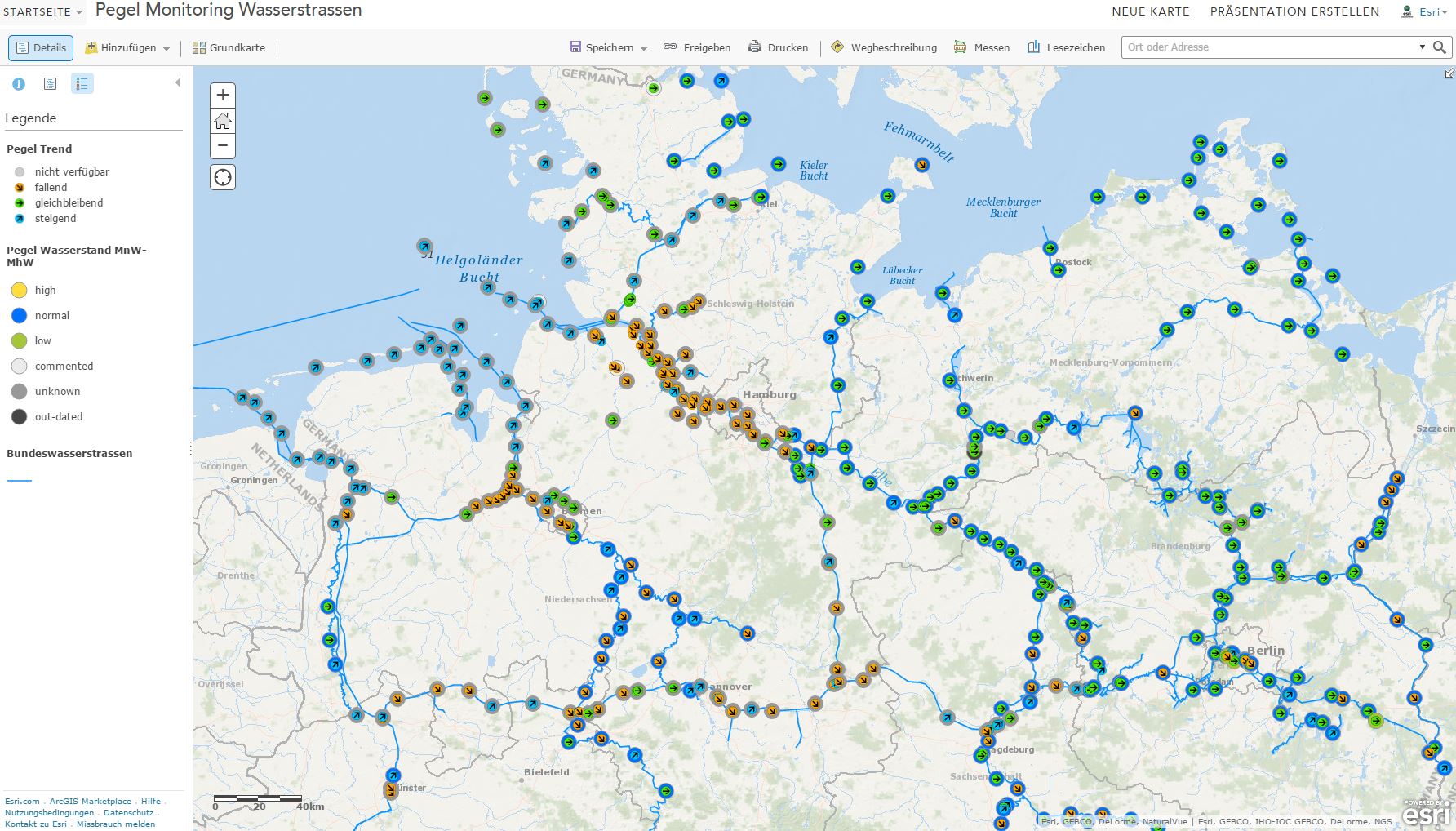 Der Feature Service Layer PegelOnline für ArcGIS - Aktuell enthält voreingestellt eine Symbolisierung des aktuellen Pegel Trends, kann aber auch nach anderen Attributen visualisiert werden. In PopUps stehen alle Attribute sowie ein 15 Tage Gangliniendiagramm von PEGELONLINE und ein Link auf den interaktiven Ganglinien-Editor des Pegels von PEGELONLINE zur Verfügung. Dieser Feature Service wird auf unserem ArcGIS Server gehostet und unter Verwendung der PEGELONLINE REST-API und der ArcGIS GeoEvent Extension for Server erstellt und täglich aktualisiert. Solch ein Geoevent-Service fragt in bestimmten Abständen eine URL von PEGELONLINE ab und speichert die abgerufenen Daten in einer Feature-Class einer Geodatabase im Modus Overwrite ab. Die Daten werden als Feature Service mit ArcGIS Server bereitgestellt und über ArcGIS Online veröffentlicht. Im Gegensatz zu WMS Diensten können die Pegel Daten für Analysen in ArcGIS Online oder ArcGIS Desktop verwendet, mit eigenen Daten überlagert und nach beliebigen Attributen visualisiert werden.
You must be a registered user to add a comment. If you've already registered, sign in. Otherwise, register and sign in.