Occasional Contributor III
Mark as New

Mark as Read

Bookmark

Subscribe

Email to a Friend
Wir haben 9 Historische Karten 1650-1986 von Berlin aus dem Geoportal Berlin als Mosaic Imagery Layer und alle zusammen in einem Temporal Imagery Layer aufbereitet und stellen diese als dynamische Imagery Services in ArcGIS Online und dem Esri Deutschland Open Data Portal zur freien Verfügung. Die Daten werden durch Esri Deutschland Managed Services auf einem ArcGIS Server in einem deutschen Rechenzentrum gehostet und in ArcGIS Online nur als Item referenziert.
Der Imagery Layer "Berlin 1650 - 1986 Zeitreihe" lässt sich zeitlich animieren. Im ArcGIS Online MapViewer werden die Zeitinformationen automatisch erkannt und die einzelnen Karten können wie eine Diashow über einen Zeitschieberegler dynamisch geregelt werden.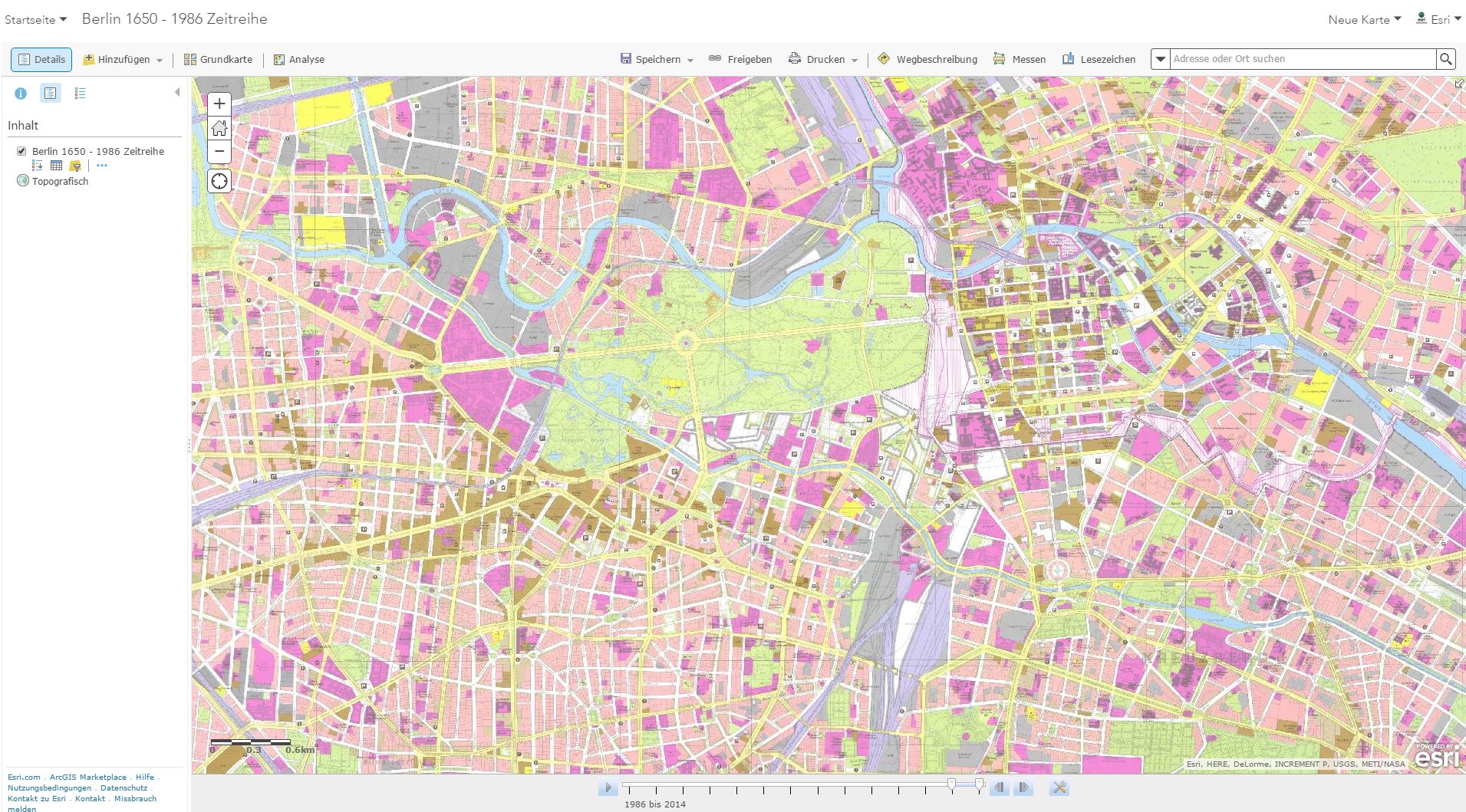 ​
Image Services bieten gegenüber Map Services einige interessante Vorteile:
On-the-Fly Verarbeitung und Analyse Funktionalitäten

Dynamische Veränderung der Bildanzeige (im Online MapViewer über die Optionen > Bildanzeige):

vordefinierte Renderer, die auch eine Graustufen-Darstellung ermöglichen

Manipulation der Bildausgabe über den Streckungstyp etc.

Abfragen (optional)

Anzeigen von Footprints (optional)

Vorschau eines Rasters (optional)

Mosaik Katalog Operationen (optional)
Weitere Informationen über Imagery Services finden Sie in der ArcGIS Server Hilfe​
Die einzelnen Schritte zur Erstellung der Dienste waren:
Download der Bildkacheln vom Geoportal Berlin

Bearbeitung in ArcMap

Zusammensetzen der Bildkacheln zu einem Bildmosaik um die Bildqualität zu verbessern

Zerschneiden des Bildmosaiks in mehrere Teile

Laden der Teile in Mosaik Datasets

Anpassen der Footprintgeometrien um die Ausdehnung optimal anzupassen

Definition der Renderer zur Bildanpassung/Graustufendarstellung (Raster Funktionen)

Berechnung von Übersichten

Laden der einzelnen Mosaik Datasets in ein gemeinsames Mosaik Datasets, Hinzufügen von Zeitfeldern

Veröffentlichung der Mosaik Datasets als Image Services auf einem ArcGIS Server

Einträge in ArcGIS Online mit Referenz auf die ArcGIS Server REST Services erstellen
2 Comments
You must be a registered user to add a comment. If you've already registered, sign in. Otherwise, register and sign in.