A blog post conveys information to the community in an article or story. It helps drive engagement through comments and allows readers to share their thoughts, opinions, or ask questions about the post. A good example of a blog post is to make an announcement, share an interesting story, provide thought leadership, or provide news.
Do not use blogs only to share a single link or if you want to collaborate on a topic with other community members.
If you want to share updates on information that you will be regularly updating, use a document.
Create A Blog
In your place or group, go to your Blog board.


From your Blog board, select Create a post.
Enter the title of the blog in the Article Subject Line.
Using an Article Teaser
If you would like to create an introduction to your blog to interest readers to read the blog from the brief text displayed in the board feed, enter a brief Article Teaser
Article Teaser text will not show up in the opening text of your blog once your blog is open.
Boards will display the opening lines of your blog content body if no Article Teaser text is provided.
Following the Article Teaser section, add your content in the Body of the post.


Additional Options
Choose your option for Email me when someone replies. This option is selected by default. Uncheck the box if you do not want to receive an email.
Choose your Labels and enter applicable Tags.
If you do not want community members to add additional tags to your blog, select the checkbox for Do not allow anyone to tag this article.
If you do not want community members to give a Kudos to your blog, select the checkbox for Do not allow anyone to give kudos to this article.
You have the additional option to schedule the publication of your blog. Enter the date and time you want the blog to publish.
If you are ready to publish the blog to the community, Click Post.
From the published blog post, click the Options menu. In the Options menu, you can make additional choices.
Select Edit Article to edit your blog.
Select Delete Article to delete the blog.
Accessing Your Draft Blog
Return to the place's Blog board where you created your blog.
At the bottom of the right column in the Blog board, look for the Blog Dashboard: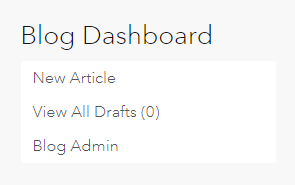 Click View All Drafts with a populated count link (e.g., (1)) to access the drafts for the Blog board.