MVP Regular Contributor
Mark as New

Bookmark

Subscribe

Mute
Hi,
I'm working in Survey123 Connect and the end user will be filling the survey out using the web form. I don't necessarily have an error, but what I'm seeing I can't readily explain.
I have a CSV file that the XLSForm is pulling from to autocomplete contact info fields, which includes addresses. This contact info is in a group. Additionally, I do not have a map question included in the survey, so to get the coordinates I have a hidden geopoint field that gathers that info.
In the web form, when you select a business from the dropdown the contact info gets automatically filled out as it should, but then this suggestive text suddenly appears. I have no idea what's causing this. I used the FireFox dev tool to see what's behind this, and there is apparently a search-widget suggestion causing this. There is no need for this since I already have all the addresses I need in the CSV file. How do I stop this from happening?

I've also attached my XLSForm. Thanks for any help!
Edit: I've also opened all the sub-files in my survey folder-- C:>users>me >ArcGIS>My Survey Designs>
Unless I'm missing something, the only reference to the word "search" was in the *.webform file. And I have no idea if that's related.
            "id": "/Waste_Recycling_Report/intro/location1",
            "inputTools": [
              "pin",
              "search",
              "locate"
            ],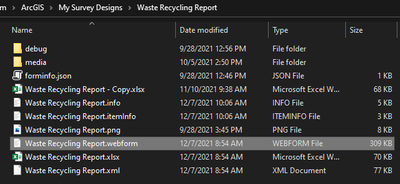 1 Solution

Esri Contributor
Mark as New

Bookmark

Subscribe

Mute
Hi @JaredPilbeam2,

The "Looking for...?" prompt is occurring because the search text (the text that will be submitted for the address/geocode question) that is calculated doesn't exactly match any of the single line addresses returned from the geocode service, so it's asking if you would like to update the search text to the highest rated suggestion returned from the geocode service. In a manual entry scenario, the search text would be updated when the user selects a location from the dropdown list.
For example, for one of the company names in your survey, the search text that's calculated is "11 3rd St.", which isn't a 100% match with any location's address, so the prompt is asking you to confirm the location. If you changed the address in the CSV to "11 3RD AVE, JOLIET, IL, 60433", then you wouldn't get the prompt.

-Barbara
7 Replies