Highlighted

New Contributor III
Mark as New

Bookmark

Subscribe

Mute

Email to a Friend
Hi, thank you in advance for the your inputs.
I think I know what the problem is, and need some guidance to whether or not this can be solved. We have a Portal and Server setup here, and the servers are not connected to the internet. I think that (even through I'm publishing a survey from a PC with access to the internet) the server can not reach the XLS Conversion Service to create the xForm. Is there a way around this? Could I host the XLS conversion service privately? Or could I manually upload the xForm?
Here is the information I could gather:
1) When I try to publish a Survey123 form to the Portal it stops at this point:

2) The feature service is uploaded correctly to the Portal:

3) However, the xform service is not being created and/or pushed to the Portal. This is the log from the publishing:

The survey "staging" folder has this in it, is there some way to publish this manually?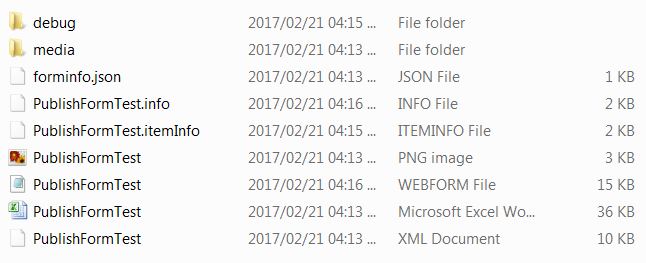 I appreciate the time taken to look through this problem.
Thanks,
Chris
1 Solution
Highlighted

New Contributor III
Mark as New

Bookmark

Subscribe

Mute

Email to a Friend
Hi Keith,
Is a QA environment not available to test the different configurations?
We've setup a 3-tier infrastructure here - so separate Portal, ArcGIS Application and Database servers. We're still implementing single sign-on through IWA. This is my experience, I'll include as much information as I can... might not be highly technical, but will hopefully solve your issue.
Working without a problem:
1) The web adaptor was install on the Portal machine and configured with remote administrator access
2) Installed Connect and the survey's published immediately with IWA and not issues
Then to optimize the ArcGIS servers (we're having performance issues), ESRI changed the web adaptor configuration and installed it on the App servers and removed remote admin access. I started to receive the same error when publishing forms.
I thought that it must be the web adaptor configuration that caused this error. So, I bypassed it using the:
https://server.domain.com:7443/arcgis/ (the last "/" is important... same with the normal setup). This setting was applied in the Survey 123 Connect settings... you'll have to sign in with a built-in Portal account (I just used the portaladmin account) to be able to publish (no web adaptor = no IWA)... the form and features published correctly.
For Survey123 (the app) I use the "normal" address via the web adapter. https://server.domain.com/portal/
If you share the form and feature correctly, then users (connecting via web adapter though AD) will be able to access, download and use the survey form.
I hope this helps, can't promise anything... it depends highly on your server configuration. Please let me know if it does help on your side, if so it's something to report to the Survey123 team.
Using version 2.0.11 Survey123 Connect
Thanks,
Chris
23 Replies