New Contributor
Mark as New

Bookmark

Subscribe

Mute

Email to a Friend
Hello,
I shared a Public Survey123 on my organization portal (ArcGIS Enterprise 10.6.1).
In the survey web designer I set Submitters to "Public" and Viewers to specific Groups (created on our Portal) only.
In my content, I have three feature layers created for the survey : the original hosted shared with specified groups, one view "stakeholder" shared with same groups and one view "fieldworker" shared publicly.
I assume that the fieldworker view is public in order to allow anyone to fill in the survey. The problem is that this layer is visible by every user on our Portal. They can open the layer in the map viewer and see all records, despite following settings (see image).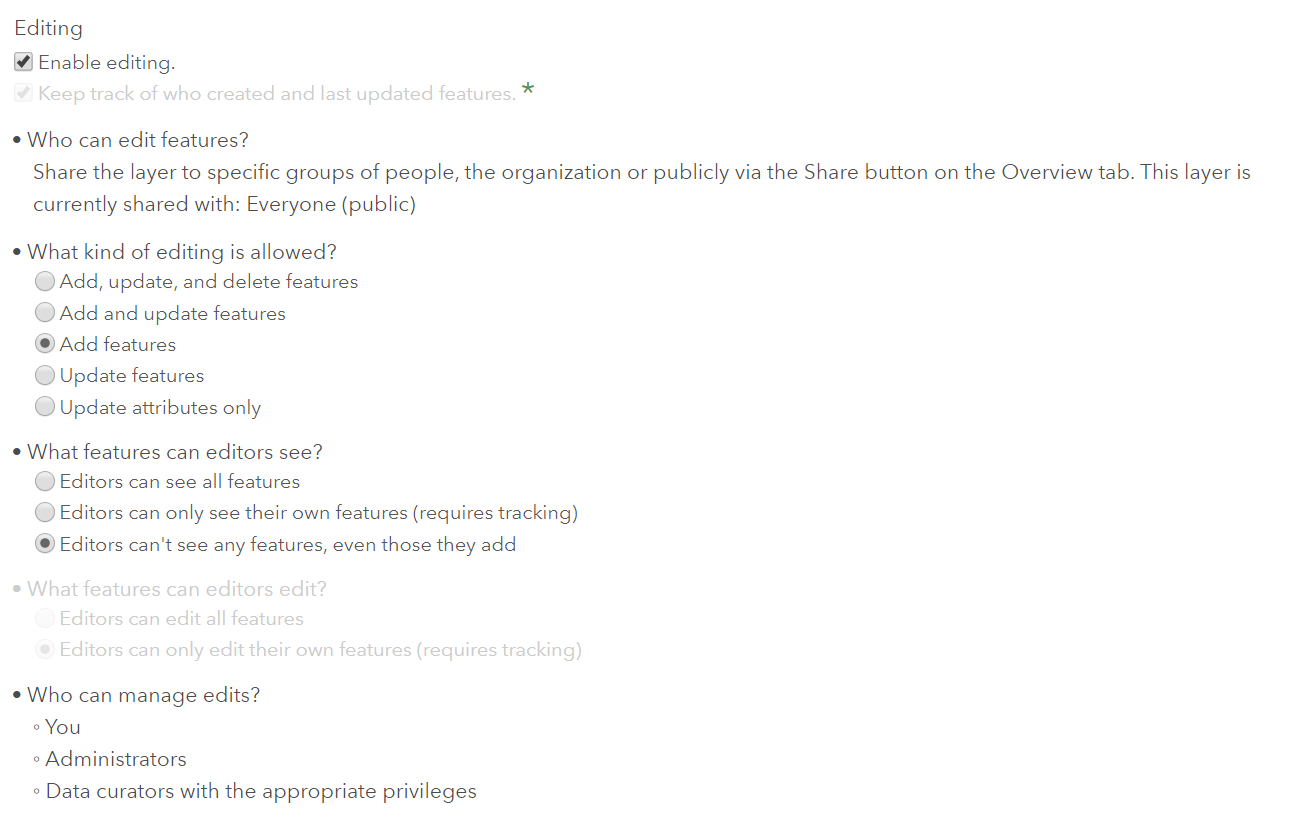 In short, I'd like my Survey to be filled by anyone (even people that are not registered on our Portal), but the records only accessible by users added in specified groups.
Anyone has an idea or is facing the same problem?
Thank you very much for your help !
Charles
2 Replies

by
MeganR_ess

Esri Contributor
Mark as New

Bookmark

Subscribe

Mute

Email to a Friend
Hi Charles,
The Editors can't see features, even those they add permission disables the query capability for the feature service.
Let's try instead changing the settings of the Survey at survey123.arcgis.com instead of in your Portal. Login at the Survey123 website, click on your survey, then navigate to the "Collaborate" tab. From here, change the "Viewer" settings- this will change who can view the data from the survey and what data they will be able to see.

New Contributor
Mark as New

Bookmark

Subscribe

Mute

Email to a Friend
Hi Megan,
Thanks for your quick reply.
I already set Viewer settings to a specific rescricted group (see image below). However the fieldworker layer view is still Public (Submitter is set to "Everyone") as it has to be filled in by anyone. Therefore data is accessible by every user on our portal.

I also tried to set "What data can viewers see?" to "Only their own submitted records" but data in the fieldworker layer is still visible.
Would you have any other recommandation/solution to help me ? Thank you very much!
Charles