New Contributor
Mark as New

Bookmark

Subscribe

Mute

Email to a Friend
Hi there,
My team is upgrading our Xamarin application to use ArcGIS Runtime 100.12. We're coming from Runtime 100.11.
We push our build artifacts to Microsoft App Center and test from there. Unfortunately, we're hitting an issue on iOS when attempting to download and install our app with the 100.12 Runtime upgrade. It appears that the download and install never completes successfully. We are not able to launch our iOS app any longer when using 100.12.
In particular, we're seeing the following OS error: Unable To Install <app name>. This app cannot be installed because its integrity could not be verified.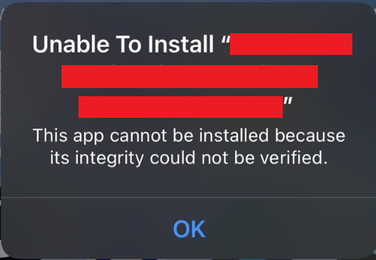 We've also seen a similar, less descriptive error message: Unable To Install <app name>. Please try again later.
If you long press on the app icon, you get an option to cancel the download. So it's not getting downloaded and installed correctly, nor can it launch.
Interestingly, it appears that we're able to deploy our app locally using 100.12, but coming from app center the build appears to be invalidated.
We've tried installation on a number of iOS devices and OS versions, all with similar results. Previous builds that use the ArcGIS Runtime 100.11 install normally. Android and Windows apps built with 100.12 are able to be downloaded and installed normally from app center. It seems this issue is isolated to iOS.
Does anyone have any insight into what might be going wrong? Any suggestions for what we might try?
In particular, the error message indicates an issue with app integrity. Are there any iOS related changes in 100.12 that might cause these installation issues?
Thanks very much!
8 Replies