New Contributor
Mark as New

Bookmark

Subscribe

Mute

Email to a Friend
I'm writing a c# application using the ArcGIS 10.2.6 Runtime SDK for .Net. I'm trying to figure out a way to utilize a basemap that is using Gall's Stereographic projection. Can this be done? If so, can I get an offline version?
1 Solution

Regular Contributor II
Mark as New

Bookmark

Subscribe

Mute

Email to a Friend
Could you provide a small sample to show what you're doing in your application? I tested these coordinate systems on my end and everything appears to be working fine.
World Imagery (3857)
http://services.arcgisonline.com/arcgis/rest/services/World_Imagery/MapServer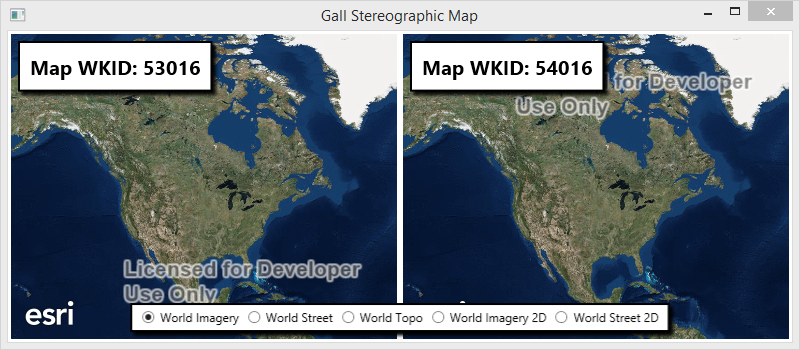 World Street Map (3857)
http://services.arcgisonline.com/arcgis/rest/services/World_Street_Map/MapServer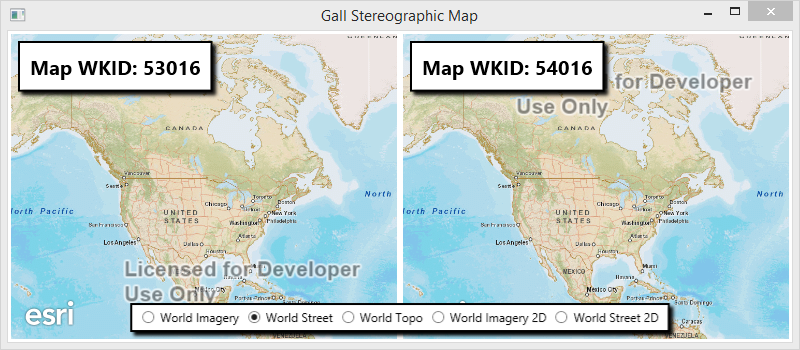 World Topo Map (3857)
http://services.arcgisonline.com/arcgis/rest/services/World_Topo_Map/MapServer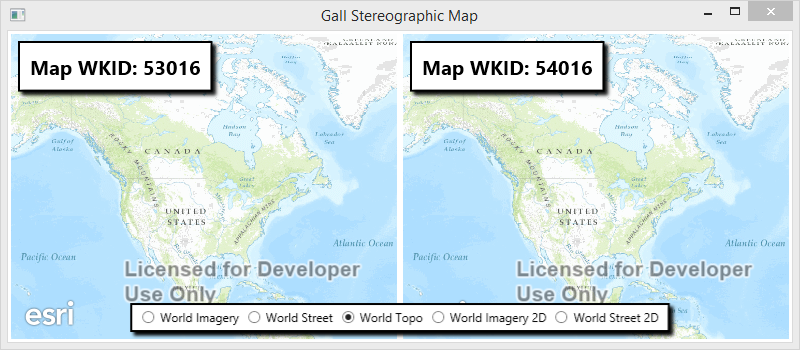 Esri Imagery World 2D (4326) ** Extended Support **
http://services.arcgisonline.com/arcgis/rest/services/ESRI_Imagery_World_2D/MapServer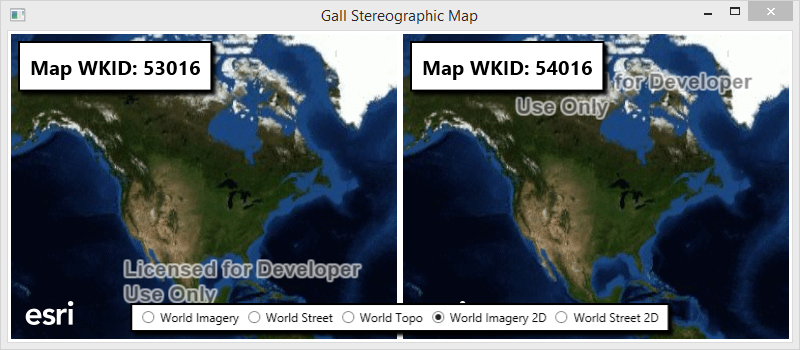 Esri StreetMap World 2D (4326) ** Extended Support **
http://services.arcgisonline.com/arcgis/rest/services/ESRI_StreetMap_World_2D/MapServer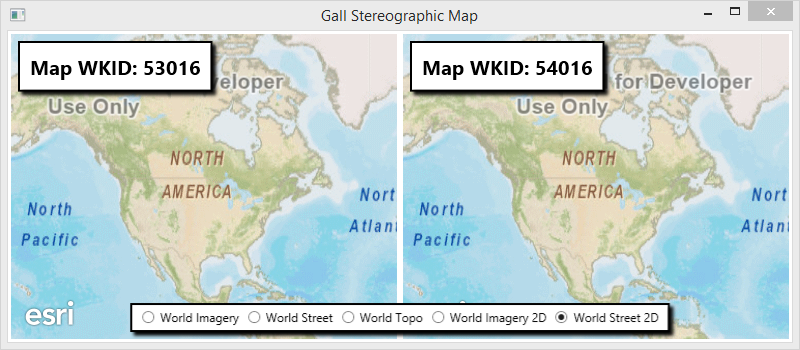 ** Code I used to test **
XAML
<Window x:Class="GallMap.MainWindow"


        xmlns="

http://schemas.microsoft.com/winfx/2006/xaml/presentation

"




        xmlns:x="

http://schemas.microsoft.com/winfx/2006/xaml

"




        xmlns:esri="

http://schemas.esri.com/arcgis/runtime/2013

"


  Title="Gall Stereographic Map" 
  Height="350" 
  Width="800">
    <Grid>
        <Grid.Resources>
            <Style TargetType="{x:Type Border}">
                <Setter Property="Margin" Value="10" />
                <Setter Property="Padding" Value="5" />
                <Setter Property="Background" Value="White" />
                <Setter Property="BorderBrush" Value="Black" />
                <Setter Property="BorderThickness" Value="2" />
            </Style>
            <Style TargetType="{x:Type TextBlock}">
                <Setter Property="FontSize" Value="20" />
                <Setter Property="FontWeight" Value="Bold" />
                <Setter Property="Background" Value="White" />
                <Setter Property="Foreground" Value="Black" />
                <Setter Property="TextAlignment" Value="Center"/>
            </Style>
        </Grid.Resources>
        <Grid.ColumnDefinitions>
            <ColumnDefinition />
            <ColumnDefinition />
        </Grid.ColumnDefinitions>
        <esri:MapView x:Name="MyMapView1" Margin="3" />
        <esri:MapView x:Name="MyMapView2" Grid.Column="1" Margin="3"/>
        
        <Border VerticalAlignment="Bottom" HorizontalAlignment="Center" Grid.ColumnSpan="2">
            <Border.Effect>
                <DropShadowEffect />
            </Border.Effect>
            
            <StackPanel Orientation="Horizontal">
                <StackPanel.Resources>
                    <Style TargetType="{x:Type RadioButton}">
                        <Setter Property="Margin" Value="4,0,4,0" />
                    </Style>
                </StackPanel.Resources>
                <RadioButton Content="World Imagery" Checked="ToggleButton_OnChecked"/>
                <RadioButton Content="World Street"  Checked="ToggleButton_OnChecked" />
                <RadioButton Content="World Topo"  Checked="ToggleButton_OnChecked" IsChecked="True" />
                <RadioButton Content="World Imagery 2D"  Checked="ToggleButton_OnChecked" />
                <RadioButton Content="World Street 2D"  Checked="ToggleButton_OnChecked" />
            </StackPanel>
        </Border>
        
        <Border HorizontalAlignment="Left" VerticalAlignment="Top">
            <Border.Effect>
                <DropShadowEffect />
            </Border.Effect>
            
            <TextBlock Text="{Binding ElementName=MyMapView1, Path=SpatialReference.Wkid, StringFormat=Map WKID: {0}}" Padding="5" />
        </Border>

        <Border HorizontalAlignment="Left" VerticalAlignment="Top" Grid.Column="1">
            <Border.Effect>
                <DropShadowEffect />
            </Border.Effect>

            <TextBlock Text="{Binding ElementName=MyMapView2, Path=SpatialReference.Wkid, StringFormat=Map WKID: {0}}" Padding="5" />
        </Border>
    </Grid>
</Window>
XAML.cs
using Esri.ArcGISRuntime.Controls;
using Esri.ArcGISRuntime.Geometry;
using Esri.ArcGISRuntime.Layers;
using System;
using System.Collections.Generic;
using System.Windows;
using System.Windows.Controls;


namespace GallMap
{
    public partial class MainWindow : Window
    {
        private readonly Dictionary<string, string> m_urls = new Dictionary<string, string>
        {


            {"World Imagery", "

http://services.arcgisonline.com/arcgis/rest/services/World_Imagery/MapServer

"},




            {"World Topo", "

http://services.arcgisonline.com/arcgis/rest/services/World_Topo_Map/MapServer

"},




            {"World Street", "

http://services.arcgisonline.com/arcgis/rest/services/World_Street_Map/MapServer

"},




            {"World Imagery 2D", "

http://services.arcgisonline.com/arcgis/rest/services/ESRI_Imagery_World_2D/MapServer

"},




            {"World Street 2D", "

http://services.arcgisonline.com/arcgis/rest/services/ESRI_StreetMap_World_2D/MapServer

"}


        };

        public MainWindow()
        {
            InitializeComponent();
        }

        private void ToggleButton_OnChecked(object sender, RoutedEventArgs e)
        {
            var tag = (sender as RadioButton).Content.ToString();

            var mapviews = new[] {MyMapView1, MyMapView2};

            foreach (var mapview in mapviews)
            {
                var layer = new ArcGISDynamicMapServiceLayer(new Uri(m_urls[tag]));
                
                var wkid = Array.IndexOf(mapviews, mapview) == 0 ? 53016 : 54016;
                var map = new Map
                {
                    SpatialReference = SpatialReference.Create(wkid),
                    InitialViewpoint = new Viewpoint(new Envelope(-141, 7, -51, 78, SpatialReference.Create(4326)))
                };
                
                map.Layers.Add(layer);
                mapview.Map = map;
            }
        }
    }
}
7 Replies