New Contributor
Mark as New

Bookmark

Subscribe

Mute

Email to a Friend
Hi,
since I have updated my XCode-App to version 6 I'm experiencing strange behaviors of AGSTextSymbols when it comes to rotating them. I've updated to SDK version 10.2.4 but that didn't change anything.
As you can see in the screenshot I have created a red polyline with text objects attached to the line segments. The black line under each text is the "underline" that comes from the text object - it is correctly rotated. But the text itself rotates in a strange manner.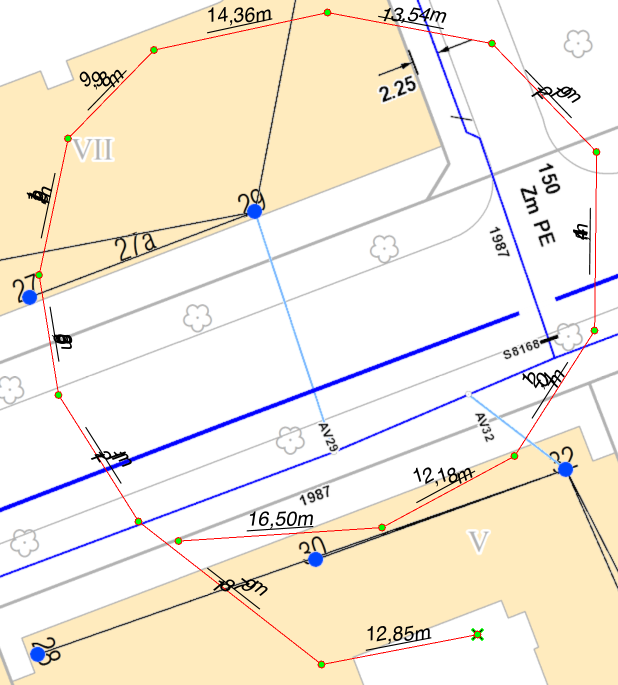 Here's the simple code snippet for my text objects:
| | |
| --- | --- |
| | AGSTextSymbol *textSym = [[AGSTextSymbol alloc] initWithText:[[NSString stringWithFormat:@"%1.2fm", length]stringByReplacingOccurrencesOfString:@"." withString:@","] color:[UIColor blackColor]]; |
| | textSym.angle = -degree_angle; |
| | textSym.fontSize = 20; |
| | textSym.italic = YES; |
| | textSym.underline =YES; |
All I can say: It worked in XCode 5. Now it doesn't. Do you have any idea?
2 Replies

by
DiveshGoyal

Esri Regular Contributor
Mark as New

Bookmark

Subscribe

Mute

Email to a Friend
Unfortunately you have run into a bug. Text symbol rotation on iOS 8 seems to rotate individual text characters instead of the whole text. We are investigating, but probably won't be able to fix till our next release.

by
DiveshGoyal

Esri Regular Contributor
Mark as New

Bookmark

Subscribe

Mute

Email to a Friend
As a workaround, if you only have a small number of graphics, you can try displaying the text symbols in a separate graphics layer that uses dynamic rendering mode. This mode was introduced at version 10.2, and seems to work fine with iOS 8 even with rotation. More information about the static v/s dynamic mode of graphics layer is available here : Release notes for 10.2—ArcGIS Runtime SDK for iOS | ArcGIS for Developers