Mark as New

Mark as Read

Bookmark

Subscribe
The recording of our DirectionsMag ArcGIS QuickCapture webinar is now ready along with answers to many of the questions you asked during the event. All the info is below. Enjoy!
What to expect: A brief introduction to the rapid data collection with the QuickCapture mobile app. The session includes an end-to-end demo showing how you can get started with your own projects. Oriented imagery and workflow automation with Make.com are also covered briefly. 60 minutes of fast pace QuickCapture!

Recording: https://www.directionsmag.com/webinar/11697 (Scroll down and click on View Recording)
Q&A:
Questions listed in no particular order.
Can you use referenced layers from ArcGIS Enterprise in QuickCapture? Including pictures? Yes.
Can I use the app without ArcGIS Pro? Yes, but there are details to this. To use the QuickCapture mobile app, you just need to download it from the app store (iOS, Android, Microsoft) and login with a Mobile Worker, or above user type. To create new QuickCapture projects, you need a Creator or above user type. You do not need ArcGIS Pro o create QuickCapture projects. However, you can use ArcGIS Pro to make Mobile Map Packages that you can use later in your QuickCapture projects.
Does it work in areas without service? Yes. Once you download a QuickCapture projects into your mobile device, you will be able to collect data even if disconnected. Unless configured otherwise, QuickCapture will automatically upload collected data once you reconnect to the network.
You mentioned being able to collect data using voice commands. Can we see an example of that? See details here
When you take a photo on the QC app, is that picture also stored on your phone? or ONLY as an attachment in ArcGIS. Photos are stored as ArcGIS attachments only. You will not see photos collected with QuickCapture in your photo camera roll.
What is the difference between Survey123 and QuickCapture? QuickCapture is for rapid data collection. Use it for projects where people want to quickly collect simple field observations: Location, photo and one or more manual attributes at most. Survey123 comes handy when you need to collect more information. Think longer forms where you need to collect many different attributes. You can collect also lines and polygons with both Survey123 and QuickCapture. A key difference is that with QuickCapture you can collect multiple features at once. For example, you can record a point event while a line is being created. You do not have to stop the line before you can collect the point. Survey123 has some additional capabilities missing in QuickCapture including: support to edit existing features, photo markup and additional question types such as checklists and others. If you want the best of both, explore the use of link buttons to launch your Survey123 forms right from within ArcGIS QuickCapture.
What are link buttons? Learn more here.
Did you say you can now configure up to 3 buttons? Yes. This was added recently. Check this blog for details.
What is the difference between an Editor and a Mobile Worker? Find more info here.
Where can I learn more about oriented imagery? Find more info here.
Can you track people with this app for like SAR track where rescue persons are? Learn more about using Location Sharing with QuickCapture here.
Can lines be easily converted to polygons or is that done externally? If you wan to collect a polygon, simply add a polygon layer into your QuickCapture project.
If using Make.com, does any data get saved or copied out of ArcGIS Online to another cloud service? Check the Security topic at Make.com for details.
Can I edit existing features in QuickCapture? No.
What new features are you planning to add into QuickCapture? See the roadmap below for the rest of 2022. In 2023, we will work on adding support for indoors positioning systems, floor-awareness and more. All road map information is subject to change! Remember that the future of QuickCapture is also in your hands: Add new and vote for existing ArcGIS QuickCapture ideas!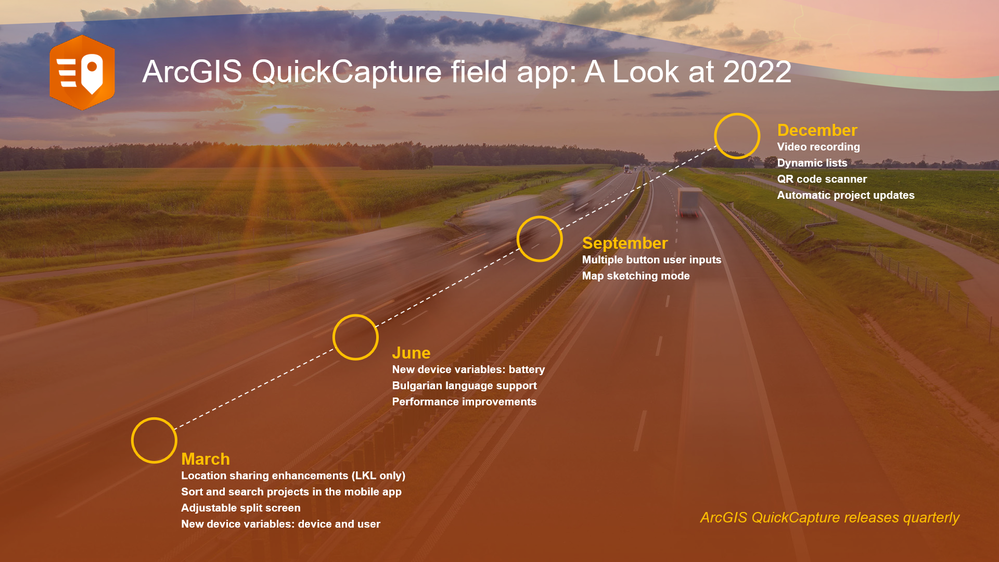 You must be a registered user to add a comment. If you've already registered, sign in. Otherwise, register and sign in.