Highlighted

New Contributor III
Mark as New

Bookmark

Subscribe

Mute

Email to a Friend
I imported a feature layer from AGOL and imported it into my ArcGIS Pro project geodatabase as a new feature class called Street_Lights. I then created a new table called Street_Lights_Inspections with a field called ParentGuid of type Guid, a date, and a comments field. I created a one to many relationship class from Street_Lights to Street_Lights_Inspections using the GlobalID in Street_Lights to the ParentGuid in Street_Lights_Inspections. I'd like to be able to add many inspection records to the Street_Lights_Inspections table for each Street Light. When I select a street light point on the map, and click the Attributes tab, I can see that there is a related table as below: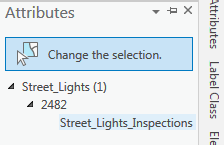 Now I want to add a record to Street_Lights_Inspections. When I right-click on Street_Lights_Inspections the "Add new to relationship" option is greyed out. What could I be doing wrong?
I'm using ArcGIS Pro 2.1.2 Advanced
1 Solution
Highlighted

New Contributor III
Mark as New

Bookmark

Subscribe

Mute

Email to a Friend
I got this from Support and it worked for me:
1. In the Catalog window:
a. Right-click the FGDB -> Refresh
2. In the Contents window:
a. Remove the Street_Lights layer and Street_Lights_Inspections table from the map
b. Add these back to the map by dragging them from the Catalog
c. Now try 'Add New To Relationship' through the Attributes window.
6 Replies