New Contributor II
Mark as New

Bookmark

Subscribe

Mute

Email to a Friend
Hello,
I am working on documenting a proposed rail trail through a few towns. It is a very long route with several sections. I am hoping to feature each section with it's own layouts. As there are 8 sections, I hope to show the route of the trail, the parcels that the trail crosses, and the proposed facilities on different layouts... for each section. I am hoping to save editable layouts for each section so that if there are future updates to the route, it won't take much work for me to come back and re-export the map to show updated information.
My attempt to do this however, did not work out as intended. I had originally tried to make layouts for each section and then I would save the layout as its own layout file. The problem that I encountered with this is that apparently when I would save a layout file, the map content is no longer affiliated with the original map data.
As a result, it was like I wound up creating 28 layout files, each with their own separate maps to do this. If I went to the original map data and made a modification to it, it would not display in the layouts I had previously made, as the layouts were no longer tied to the original map data.
This isn't what I had hoped to do at all. It's important for me to preserve each layer's relationship to the original map file so that any modifications made to the route data can be updated in the future.
Can somebody point me in the right direction for this? I'm sure this isn't a very sophisticated thing that I'm trying to do, I just don't know what it is I should be doing instead.
The end goal is for me to have a map file that I keep up to date, and then many layouts of that map file that I can go back to time and time again to re-export should there be updates to the map file in the future.
1 Solution

by
jcarlson

MVP Frequent Contributor
Mark as New

Bookmark

Subscribe

Mute

Email to a Friend
Can you elaborate on how your Pro project is structured? If you have, say, 8 different layout items in your project, and the primary map frame in each layout references the same map item, they should all stay synced with the symbology, layer ordering/visibility, and data of that map.
If you wish for the layouts to link to the original map, there's nothing actually preventing that from happening, but it sounds like you may need to adjust how your maps and layouts are configured.
What do you mean by "save a layout file"? If it's added to your project, there's no reason to save the layout elsewhere.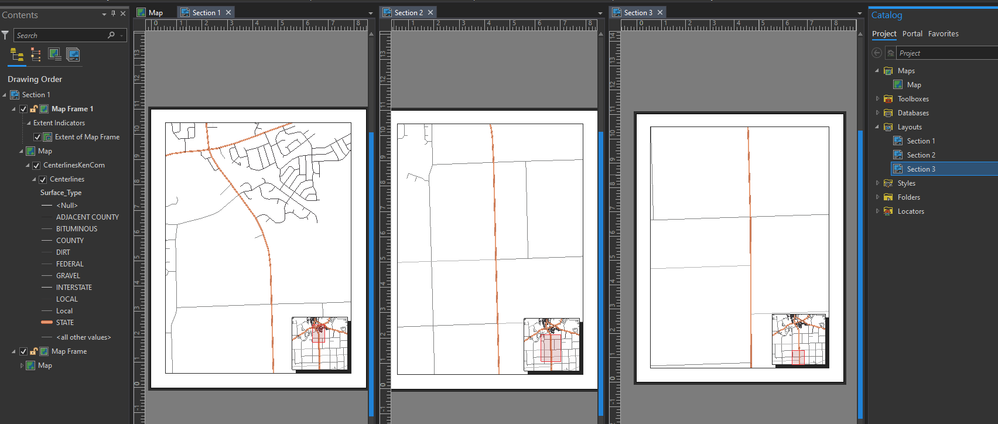 - Josh Carlson
Kendall County GIS
13 Replies