New Contributor II
Mark as New

Bookmark

Subscribe

Mute

Email to a Friend
1.) Legend text issue.
Creating a legend for a map layout. When I have created it, all the spaces between words disappear. Adding aditional spaces acts like insert mixed with delete, moving the words on top of each other. This does not occur on all 4 map layouts in the project, only the ones with contours and DEM's even if they are not in the legend
(1st image is the correct formating on the right, v.s. the legend output, 2nd image is the diffrence when 4 extra spaces are added.)


1.a.) Attempted fix 1: Restart everything.
Attempted fix 2: Create a brand new legend. Result: same as error.
Attempted fix 3: Create new layout then new legend. Result: Works sometimes, then occasionally will revert to error.
Does anyone know how to fix this issue, as it does not appear on all my projects/layouts and seems to randomly appear.
2.) "Only show features visible in the map extent" destroys projects loading times.
If the "Only show features visible in the map extent" option is selected in the legend properties settings then everything in the Map Layout takes extremely long times to load (Example: 5 min load time to show a single space added to some basic text for a title).
Contours and DEM's make this process vastly worse, however these are uniform across my projects so they can be converted to graphics separately
One work-around that I have had some success with is converting the legend to a graphic. This is however impossible when trying to use a map series. Having this option checked, changes a map series export time from 3 hours to over 14 hours resulting in the project crashing. Since features in the mapseries can vary massivly, I cannot leave all the legend options on.
Any work-arounds would be greatly appericated as this has been an ongoing issue for over a year.
Specs
Current Version: ArcGIS Pro 2.6.3
Computer Hardware Specification: Processor, Intel(R) Core(TM) i9-9900KF CPU @ 3.60GHz 3.60 GHz. RAM: 32GB. SSD: 970EvoPlus. Graphics card: GeForce RTX 2060 SUPER.
Network speed: 900gb download, 450gb upload.
All software is uptodate as of 03/12/2020.
1 Solution

by
TomBole

Esri Regular Contributor
Mark as New

Bookmark

Subscribe

Mute

Email to a Friend
Hi Bryn,
Issue #1:
This is likely an issue with the font you are using in the legend and not an issue with the legend itself. In particular, the Word spacing for the Text symbol could be at 0%. Here is an example:
If Word spacing is 0& change the value to 100%. This should fix your issue.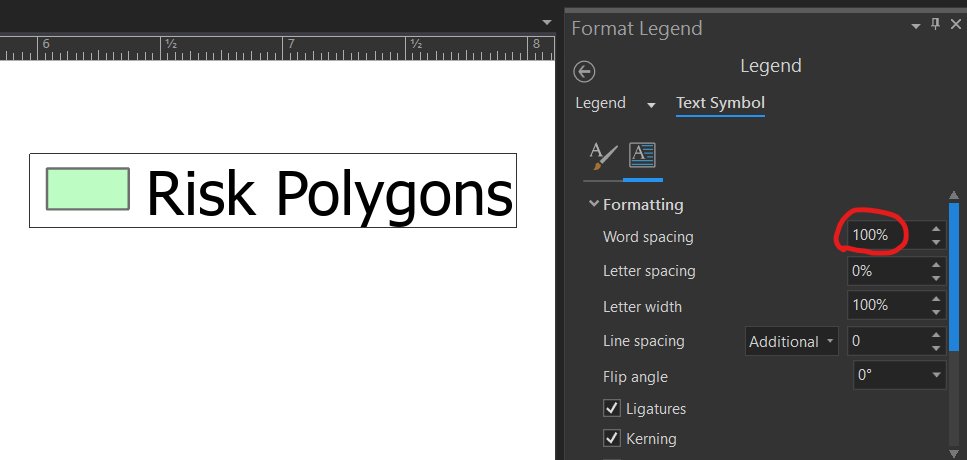 Issue 2:
I'm unaware of any specific performance issue regarding the scenario you outline. Map Series (and the dynamic layout elements, such as legends) have many dependencies that effect performance - feature drawing, querying the database or server, calculating new extents and the features within, etc... Troubleshooting such issues without the map/data is very difficult. Can you contact Esri Support? They are better equipped to handle troubleshooting steps and gather bug data. They can be contacted at https://support.esri.com/en/contact-tech-support. Or you can use the phone number Robert provided.
Hope this helps,
Tom
7 Replies