Mark as New

Bookmark

Subscribe

Mute
I am absolutely loving the auto text feature. Super convenient for getting the labels to go the way you want them to go quickly.
What I've noticed is that it tends to pick which label class to use on its own (appearance, position, and expression), and I haven't found a way to specify which class I want. I can tell it to ignore the appearance and position settings, but it still then places a plain, straight label of only one of my classes with no option to specify.
A highway, for example, may have a name and a signed number, and sometimes both are used on maps. I can get it to label it with the street name, but not the shield. Some sort of selector for those features that fall under multiple label classes would be great.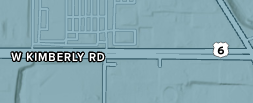 As an example, this is how the labeling rules place them - just fine. When I go the auto text route, I can only get Kimberly.
While we're at it, some options for specifying which layer you're trying to label would be nice as well, though this can pretty reasonably be done by turning them on and off as you go for now.
You must be a registered user to add a comment. If you've already registered, sign in. Otherwise, register and sign in.