ArcGIS Pro Roadmap - July 2020
ArcGIS Pro 2.6 was released on July 28th, 2020. For information on the latest updates, see the ArcGIS Pro Release Notes.
Our goal is to build the best GIS software available. This ArcGIS Pro Roadmap* gives you a sneak peek of what we're focusing on for the near, mid and long-term of ArcGIS Pro development. This gives our current estimate of when each capability will be released. Some new capabilities will be made available for testing through Early Adopters Programs prior to a release. We'll revise the roadmap throughout the year to ensure it reflects the latest information.
What would you like to see next in ArcGIS Pro? Share your ideas on the ArcGIS Ideas site. See Ideas in ArcGIS Pro 2.6 for customer ideas that were included in this release.
* Capabilities on this roadmap are tentative and subject to change, delay, or cancellation. The continued development or release of a capability is at the sole discretion of Esri.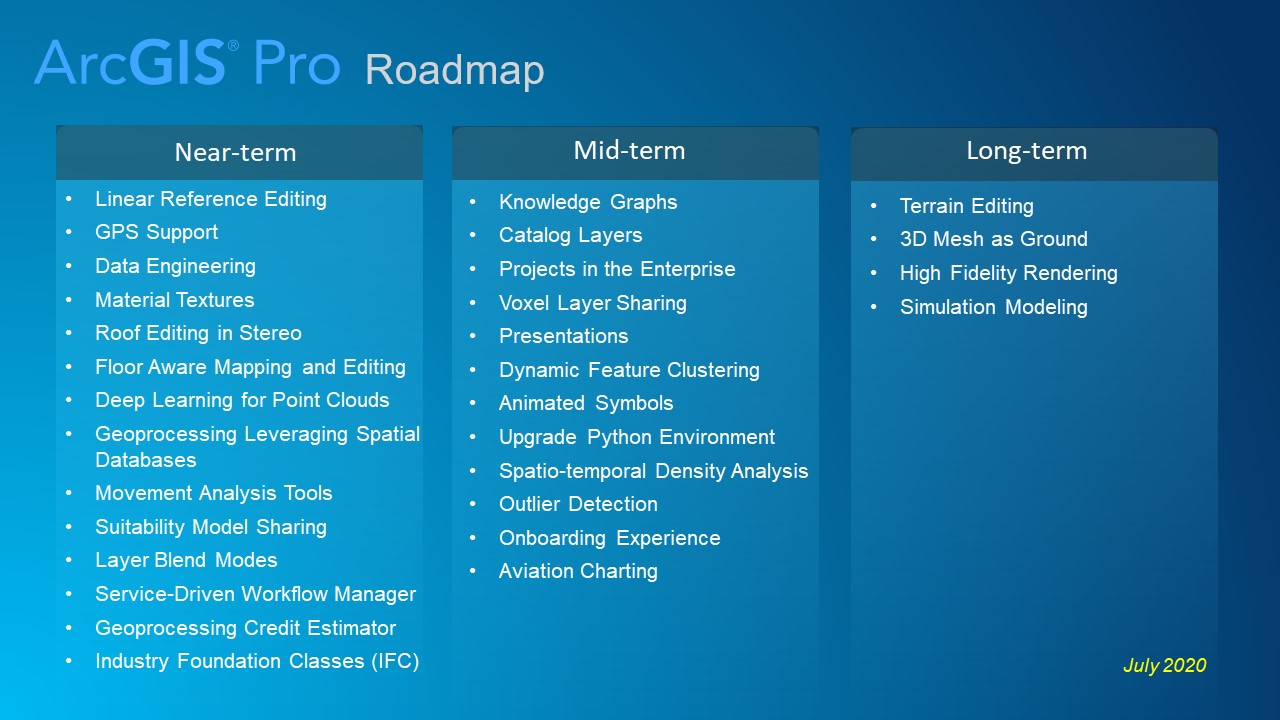 Near-term (next release or two)
Linear Reference Editing – Find and edit routes and measures.
GPS Support – Connect, collect data, and update positions directly from a GPS device.
Data Engineering – A guided experience to explore your data, add and calculate new variables (attribute fields) with spatial and statistical characteristics, and prepare data for use in machine learning workflows.
Material Textures - Cross-platform support for texture properties on surfaces to support reflectivity, roughness, and other properties for more photo realistic visualizations in 3D scenes.
Roof Editing in Stereo – Tools specifically designed to create and edit pitches, ridge lines, gables and other roof specific features.
Floor Aware Mapping and Editing - A simple information model supporting the identification and configuration of map layers consisting of indoor information for multi-floor buildings for visualization, data management, and analytics of indoor data across the ArcGIS platform.
Deep Learning for Point Clouds - Extend the work we've been doing with deep learning for raster data to include training and classification tools for point clouds.
Geoprocessing Leveraging Spatial Databases - New options to run certain geoprocessing tools like Buffer, Spatial Join, Select, or Intersect as queries in databases that support these operations, which will result in improved performance.
Movement Analysis Tools- New track-based tools to analyze movement. This includes the proximity tracing tool developed for contact tracing applications.
Suitability Model Sharing - Share and execute raster suitability models using ArcGIS Enterprise and raster analytics in ArcGIS Image Server.
Layer Blend Modes - Control the appearance of overlapping colors by blending (merging) using a variety of modes to provide options for how hue, saturation, lightness, darkness, and other properties are calculated when colors are combined.
Service-Driven Workflow Manager - New version of Workflow Manager that works with a service-driven architecture.
Geoprocessing Credit Estimator - A command to estimate the number of ArcGIS credits will be added to the approximately 20 geoprocessing tools that consume credits.
Industry Foundation Classes (IFC) - Support for IFC, the open file format specification to describe architectural, building, and construction industry data as a read-only data source.
Mid-term (next two or three releases)
Knowledge Graphs - Provides a platform-level way to create, visualize, and query a graph network containing entities and relationships.
Catalog Layers - Working with collections of layers within ArcGIS.
Projects in the Enterprise - Use your Portal to share projects, collaborate and work more effectively with others in your organization.
Voxel Layer Sharing - Share Voxel Scene Layers across the platform for use in web, desktop and mobile apps.
Presentations - Create and share a collection of map and scene views along with titles, graphics, and descriptive text as presentations.
Dynamic Feature Clustering - Dynamic grouping of features as proportional symbols in order to visualize areas with greater and lesser numbers of features when displaying data at varying scales.
Animated symbols - Symbols that dynamically change to show direction of movement, change in intensity, or fluctuations in value to support scientific temporal visualizations.
Upgrade Python Environment - Upgrade a python environment created in a previous version to the current version of ArcGIS Pro.
Spatio-temporal Density Analysis - Kernel Density will be enhanced to calculate density for observations that changes over space and time.
Outlier Detection - Detect both spatial and time-series outliers to learn more about your data, fine tune your analysis and uncover anomalies.
Onboarding User Experience - Provide access to information and resources to help you get started and work with Pro from within the application.
Aviation Charting - Aviation Charting Extension for building Enroute, Terminal, and other aeronautical charts.
Long-term (in the plan but not assigned to a release at this point)
Terrain Editing - Edit features participating in a terrain dataset. Add, remove and replace data referenced by terrains.
3D Mesh as Ground - The ability to use integrated mesh or TIN information as a true triangulated ground surface that would be more precise than our raster surfaces and allow structures such as tunnels and mines.
High Fidelity Rendering - A series of display improvements to support more photo-realistic 3D scene visualizations.
Simulation Modeling - Simulate complex phenomena like airflow and fluid dynamics in 3D/4D based on physical models.
For more information on the current release of ArcGIS Pro visit the Resources page.
Sign up for your 21-day ArcGIS Pro trial.