New Contributor II
Mark as New

Bookmark

Subscribe

Mute

Email to a Friend
We have a new Fabric built, at my organization, and I am reaching out to see if anyone has had success exporting the feature classes inside of the Fabric dataset to another geodatabase, using Python. I have created a simple Python script using the FeatureClassToFeatureClass_conversion ArcPy function. This script works as it is designed for features classes in file geodatabases. It also works on feature classes in Enterprise geodatabases. However, when I tried to run my script, to export feature classes from the Fabric dataset, in an Enterprise geodatabase, I get an error:
LandRecordsMapping.ENTERPRISE.PARCEL_LOT_POLYGONS does not exist or is not supported
This feature class does exist inside the Fabric Dataset. Here is a picture of the feature class that exists in the Fabric dataset: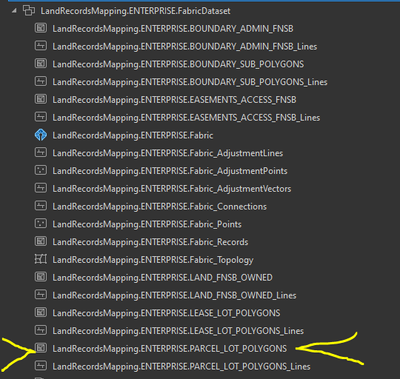 This script error makes me think that the feature class from the Fabric dataset is not supported for this script. I did some research and found something that said feature classes in a feature dataset, with attribute rules, are not readable with arcpy. I'm not sure if this is true, but the "not supported" part of the script error leads me to believe that ArcPy is not detecting my feature class because it isn't readable from ArcPy.
How can I run the FeatureClassToFeatureClass function, from my Parcel Fabric dataset, using ArcPy? If it can't be done using ArcPy, how else can I export feature classes from a fabric dataset (with attribute rules) to another geodatabase, as a non-fabric feature class.
My python script is attached and looks like this:

Note: I have successfully run the Feature Class to Feature Class tool in a model in ModelBuilder, in ArcPro, to export a feature class in the Fabric dataset to another geodatabase. This works as I expect it to, but I was hoping I could do this task in a simple python script instead.
Thank you for any advice.
10 Replies