New Contributor II
Mark as New

Bookmark

Subscribe

Mute
Hello, We have some data on a SQL geodatabase that we publish as feature services (related & hosted) with fairly complex symbology through lyrx files in ArcGIS Pro. I have updated these services regularly without issue. However, recent updates have resulted in the labels of the published services showing up so extremely small they can hardly be seen. Even when increasing the label size to the maximum allowed in ArcGIS Online (40pt) they are not readable. I do not know what is causing this as they are showing up fine in ArcGIS Pro and none of the label settings were changed. Republishing the service does not fix the issue.
Below - The tiny labels (circled in red) as they appear in ArcGIS Online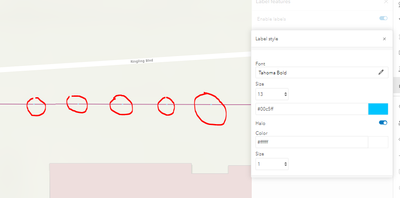 Below - the labels as they appear in ArcGIS Pro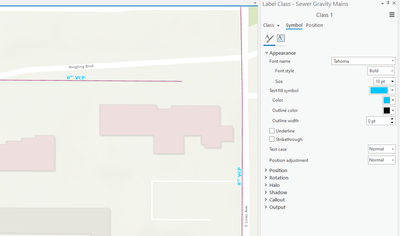 I have tried comparing the settings between the affected layers and other layers where the labels are showing up normally and there do not seem to be any differences. Furthermore, every new layer I publish has the same issue, even the previously unaffected ones and ones taken directly from the SQL Database which should bypass any potential issues with the lyrx file. I have recently started working from home - could monitor settings, such as publishing from remote desktop with a scaled display cause this? I wouldn't think so, but nothing else has changed and some sort of cached display conversion value that is used in the process of publishing makes an odd sort of sense. Republishing from my normal computer and clearing the layer's cache did not help. Also, it is not just my computer - the labels are showing up this way for everyone.
Thank you for any ideas.
1 Solution

by
RussRoberts

Esri Notable Contributor
Mark as New

Bookmark

Subscribe

Mute
Can you change the expression in map viewer to this and see if the labels work?
$feature["material"]
$feature["diameter"]
DomainName($feature,"diameter")+ " '" + DomainName($feature,"material")
7 Replies