Highlighted
Mark as New

Bookmark

Subscribe

Mute

Email to a Friend
Hello, I downloaded the ArcGIS for Creative Cloud last week at school to test it out. As a design student, I'm glad it exists! I'm working on an urban analysis and I had to print this map that I've built online with data from this source.
So, my goal was to import the data from my web map in Illustrator, play with colours and line weights and then print it at 1:10 000. When I did print the map, I realized that it wasn't at 1:10 000. It was way bigger. I thought I made some kind of mistake when I imported the data. The next day, I ran another import to create a new file. I made sure the scale was at 1:10 000 when I imported. The same thing happened, the map was a lot bigger than expected. 2,54 times bigger. I manually scaled down to roughly 1:10000 and printed my map.
I made sure the Creative Cloud apps are up to date as well as the extension. I'm working on an iMac 2011 running El Cap 10.11.6.
Anybody has an idea of how to have the right scale in Illustrator? Did I miss something?
3 Replies
Highlighted

Occasional Contributor
Mark as New

Bookmark

Subscribe

Mute

Email to a Friend
Hi David,
When resizing your mapboard, you have the option to resize based upon the size of the final product or based upon the scale of the map. The default is the former, so when you manually adjust the extent of the mapboard with this default selected, the scale will change. In this case, if you shrink the mapboard, the scale will get larger, and if you expand the mapboard extent, the scale becomes smaller.
You might want to try selecting the second option "Set Map Level of Detail To:" when your setting up your mapboard.
Please let me know if this helps!
Thanks,
Sarah
Highlighted
Mark as New

Bookmark

Subscribe

Mute

Email to a Friend
Hi Sarah! Thanks for answer. Yeah I understood that setting while I was experimenting with the extension yesterday.
I just ran another test. Like you'll see in the screen below, I made sure that Set map level of detail to was ticked and set to 1:10000 under the When resizing map area setting before importing.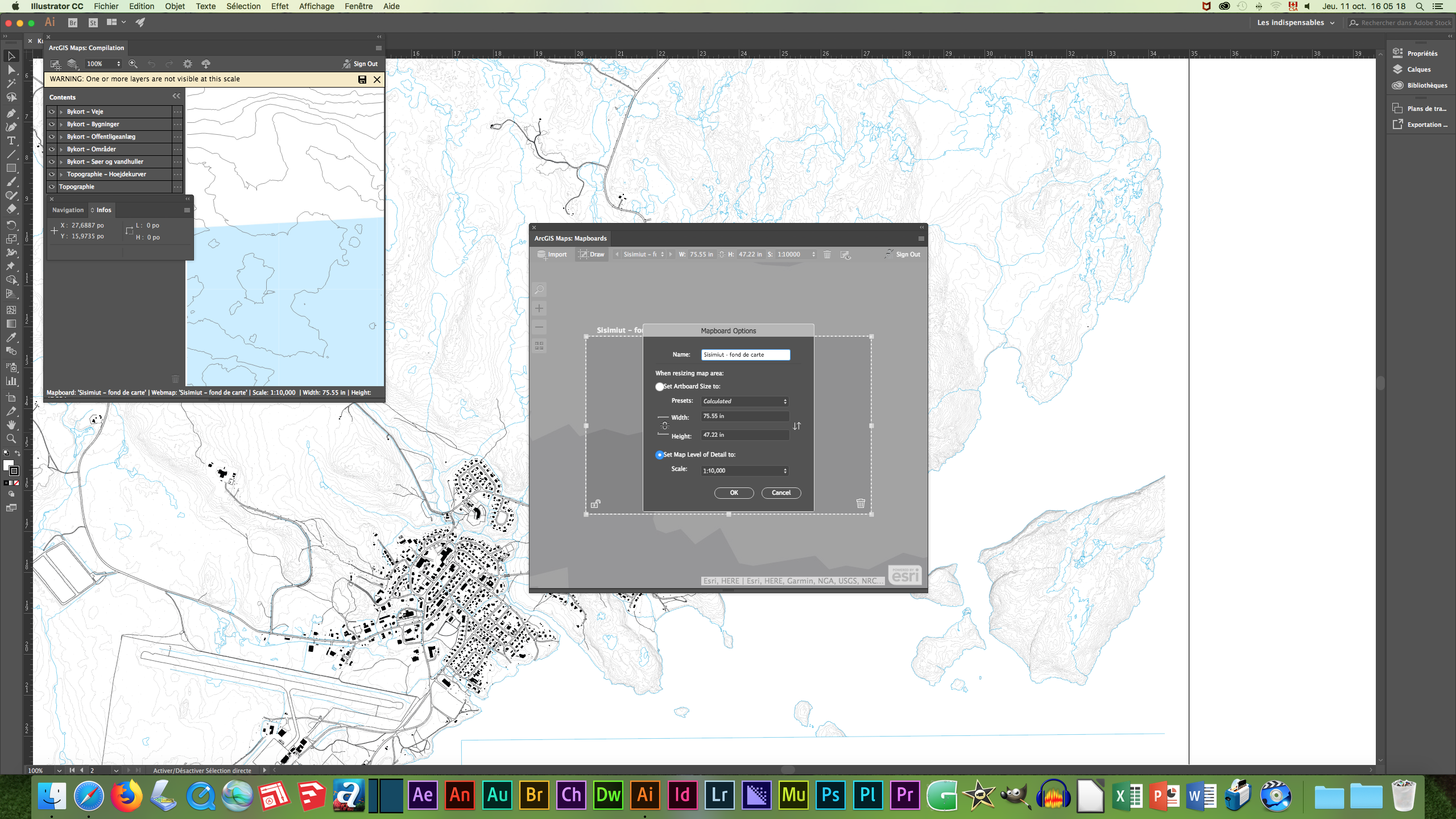 After the import, when I mesure the scale displayed at the bottom left of the map, here's what I have.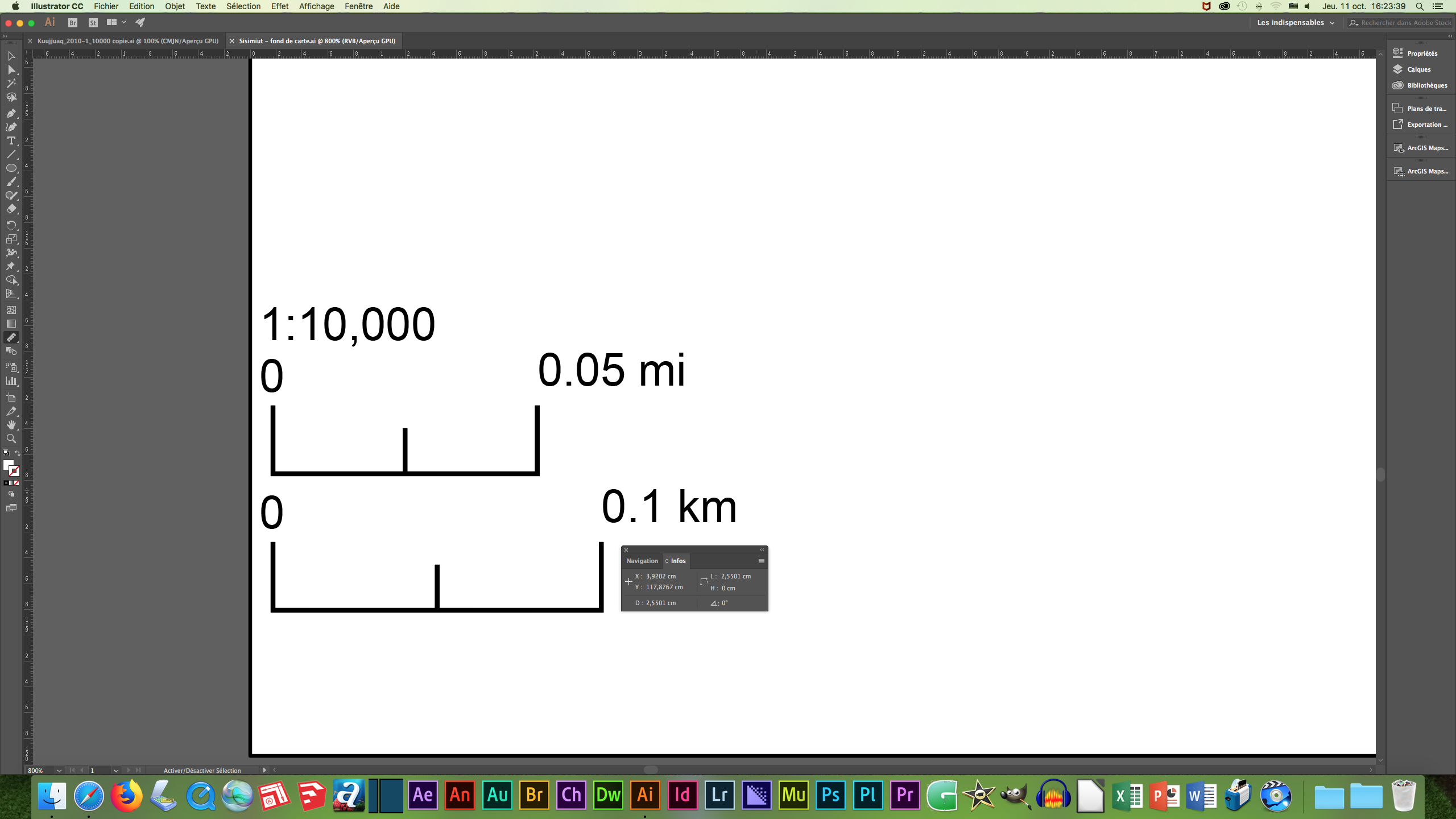 Since the map's scale is 1:10 000, the 0.1 km scale should be 1 cm long on the map. And as you just saw, it's roughly 2.55 cm.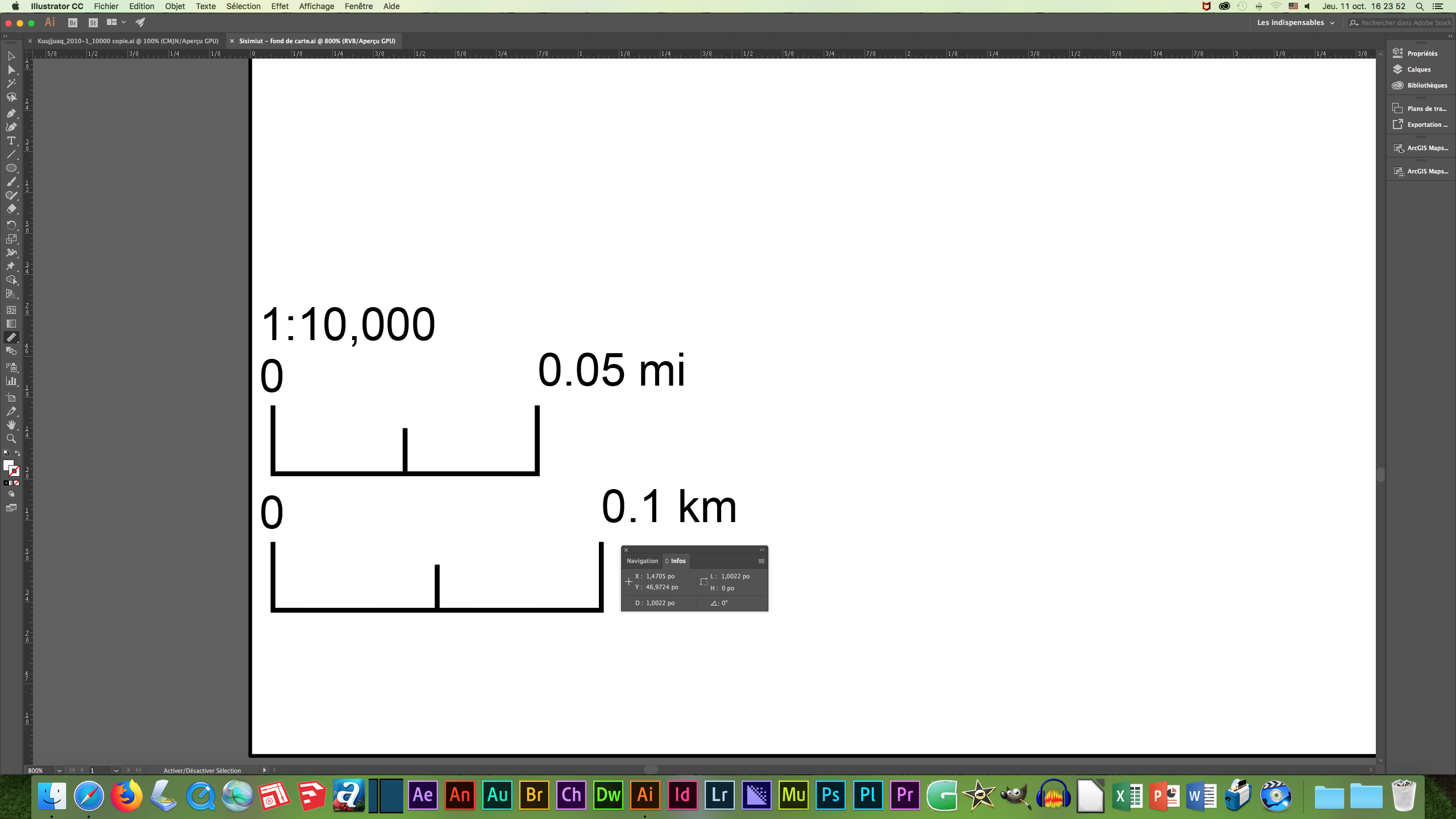 Since 2.55 cm = 1 inch, I'm wondering if there's some compatibility issues due to the fact that my OS system is not in imperial unit, but in metric (with French Canadian settings). I know it can create some compatibility issues sometimes, because the comma and the dot are not used for the same thing when displaying numbers (it can create problems with CSV files and stuff like that).
What do you think?
Highlighted
Mark as New

Bookmark

Subscribe

Mute

Email to a Friend
Hello Sarah, I did some measurements on my map, to be sure. It is not only the scale bar that is not at 1:10 000 but the whole drawing. I measured a building in Illustrator after the import and then compared it to the measurement from ArcGIS online. The building in Illustrator isn't 10 000 times smaller, as it should be.