Occasional Contributor
Mark as New

Bookmark

Subscribe

Mute

Email to a Friend
I have just updated to 10.6. I have georeferenced a survey plan but when I rectify it as tiff (or png) and pull it into the mxd it is simply all one golor (gray for the tif and black for the png). I have georeferenced before but never had this issue.
2 Replies

MVP Frequent Contributor
Mark as New

Bookmark

Subscribe

Mute

Email to a Friend
Just to clarify, when the georeferencing was performed, was the process used only to "Update Georeferencing" or was a "Rectify" done also?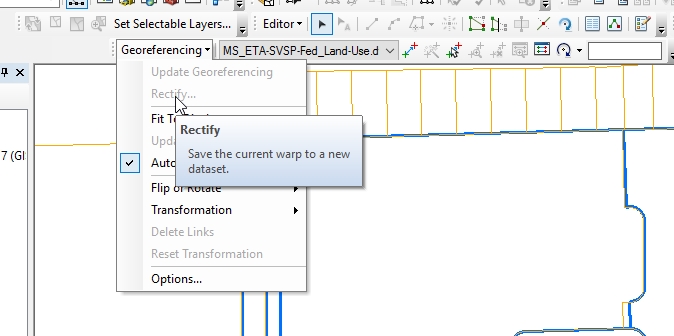 If a "Rectify" was done, note that it creates a new dataset, and it is important to choose a dataset that will support the proper amount of bands needed. In your case, it sounds like a dataset format was chosen that only supports export of one band, thus the "gray" output.
Rectifying or warping will create a new raster dataset that is georeferenced using the map coordinates and the spatial reference.
Source: Fundamentals of georeferencing a raster dataset—Help | ArcGIS for Desktop
Chris Donohue, GISP

Occasional Contributor
Mark as New

Bookmark

Subscribe

Mute

Email to a Friend
I did use rectify. It is simple black and white survey plans so think the bands should be ok - I have done these even quite recently and there was no issue, and pretty sure I rectified to tiff. I recently georeferenced another project where I can see the tiff fine in the original MXD, but if I do Preview in arcCatalog or add the tiff to another mxd it is all grey.