New Contributor II
Mark as New

Bookmark

Subscribe

Mute

Email to a Friend
I am trying to update an attribute and assign a tag to it (in this case TRACK_ID). As soon as I click Save I get the screen "Please wait while the field is edited..." and it has been stuck on it for over half an hour.
Tried different browsers but there was no difference.
What am I missing?
There are times when this just works in seconds, and sometimes I hit this. This is at least the 3rd time it happens - the previous times I ended up completely deleting all input and output adapters and all definitions and ended up rebooting the server, but this should not be the solution...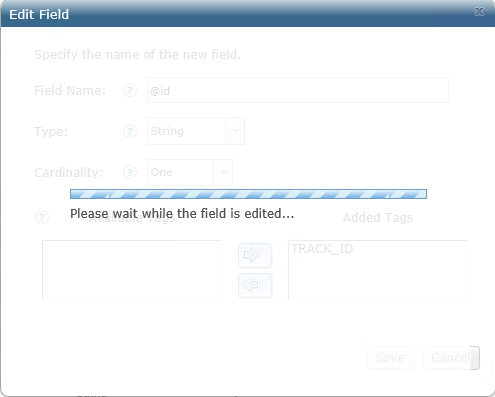 1 Solution

by
RJSunderman
Esri Regular Contributor
Mark as New

Bookmark

Subscribe

Mute

Email to a Friend
Daniel Cota Chris Beyett‌ Vladimir Strinski‌
This issue is being tracked by Esri Tech Support as BUG-000107723
The GeoEvent Server product team has accepted the bug an is looking at a possible fix for the 10.6.1 product release.
The issue does not appear directly related to the JSON adapter's Learning Mode. It is interesting that the issue's behavior changes in different browser clients with regard to the number of fields beneath a parent. Thank you for that information.
As a work around, for 10.5.1 and likely 10.6, please consider manually creating a GeoEvent Definition which is flat (e.g. no Group elements). You should be able to apply your GeoEvent Tags to this flattened structure and/or change a field's data type to specify, for example, that a value ingested as Double can be handled as a Long integer. Note that you should be using flattened event structures with add/update feature as well as stream service outputs -- both outbound adapters in these cases translate an expected flat event structure into Esri Feature JSON (which is hierarchical) as part of their event record dissemination.
It may also be possible, though much less palatable, to export the GeoEvent Definition which the GeoEvent Manager web application is not allowing a user to edit, use a text editor to edit the XML, delete the original GeoEvent Definition, and import the changes from the altered XML. I would expect anyone interesting in trying this to work with Esri Tech Support as accidentally changing the XML structure will prevent successful XML import and GeoEvent Definition recovery.
- RJ
19 Replies