New Contributor III
Mark as New

Bookmark

Subscribe

Mute

Email to a Friend
I am using 'Watch folder for csv' input connector to read .txt files that have several data & time fields. These fields are being written in a feature service housed in Spatio-Temporal Data Store. The issue is, for those 'Date' fields that have only date value in them, a default timestamp gets added by Geoevent. So, if the csv has '01/25/2010' as the value, this is being written in my feature service as '01/25/2010 4 PM'. I tried adding MM-DD-YYYY as Expected Date Format, but that didn't help either. I would really appreciate if I could get any help on removing the default '4 PM' timestamp from my date field.
Thanks,
Shital
2 Replies

by
RJSunderman

Esri Regular Contributor
Mark as New

Bookmark

Subscribe

Mute

Email to a Friend

New Contributor III
Mark as New

Bookmark

Subscribe

Mute

Email to a Friend
Hi @RJSunderman , thank you so much for the reply. However, I think I am still in need of some assistance here. Allow me to explain my issue further.
My CSVs have multiple date and time fields. Some of them have Epoch Values which I was able to convert to desired MM/DD/YYYY MM:HH format, thanks to your earlier post.
However, I also have some fields with 'Date' data type (not string) that have date values in them. Since my end users/client application require fields that have 'date' values only, I am trying to retain the original date only format.
In the following screenshot, W is a 'date' field, X is a 'time' field and Y is a 'date' field with epoch values (the CSV was exported from SQL Server). I was able to convert X and Y respectively as 'string' and 'date' field (in geoevent definition). However, I want to import W column as date in feature service (with no time values). Is it possible in Geoevent/Portal? Or does Geoevent/feature service cannot handle date only fields?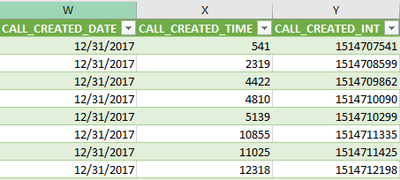 P.S - Following is a screenshot of a feature layer created using above CSV (different records, values do not correspond to CSV above). As you can see, 'call_created_date' field has unwanted and default 5 pm values appended to it.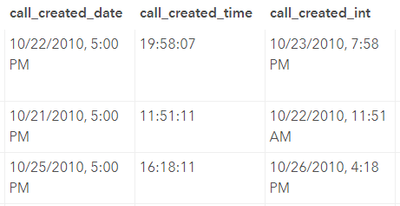 Thanks again for your time,
Shital