New Contributor
Mark as New

Bookmark

Subscribe

Mute

Email to a Friend
[edit. I'm using ArcPro 2.6]
First, thank you to @MelindaMorang for making these products and tutorials.
I'm having trouble creating a network dataset for Atlanta's MARTA system that will actually calculate walk + transit service areas. After I run the GTFS to Network Dataset Transit Sources tool using MARTA GTFS data from here, my LineVariantElements feature class is not a series of straight, 'spiky' lines. Instead, the LineVariantElements simply follows the streets like the MARTA lines do in real life. The image on the left seems to be what I need, but the image on the right is what I get: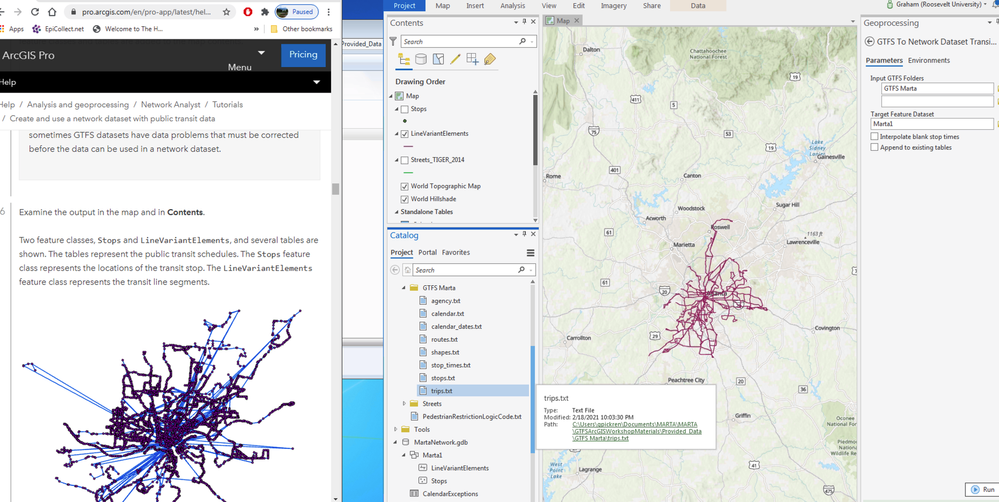 I don't see any problems with the GTFS data (no missing stop times) and the points seem to be generated correctly.
The issue is that while I can still go forward and create a network dataset following the ArcPro tutorial, I can never generate service areas where transit time is an option. When I followed this Youtube guide Melinda created to create a transit network dataset for ArcMap, I likewise did not get 'spiky' transit lines. However, ArcMap let me set up an evaluator attribute called transit time that allowed me to assign the 'Transit Evaluator' as the Type of evaluator for Transit Lines in my network dataset. Nonetheless, my ArcMap generated network dataset wouldn't let me generate service areas with transit time. In ArcPro, I can't even select Transit in my network dataset properties.
So, am I stuck with walking and driving analyses or can I do some things with transit travel?
Here's the attribute table of my LineVariantElements feature class: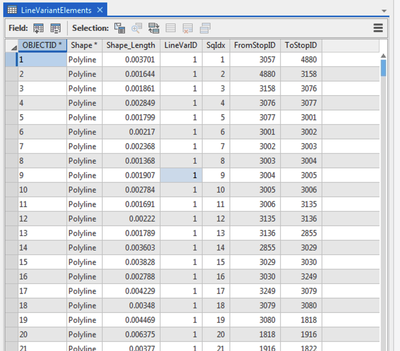 4 Replies