New Contributor
Mark as New

Bookmark

Subscribe

Mute

Email to a Friend
Hi, I'm using a SOE and I would like to export a geometry to file in order to share it.
I tried with ExportToESRIShape (like in this example) but saving the output buffer in a file I didn't obtain a known format (e.g. shp or zip).
Anyone knows about another method? or an ExportToESRIShape example to export to file?

Thanks in advance,
Guglielmo.
1 Solution

by
nicogis

MVP Frequent Contributor
Mark as New

Bookmark

Subscribe

Mute

Email to a Friend
In help you need see class that implement the interface IFeatureClassName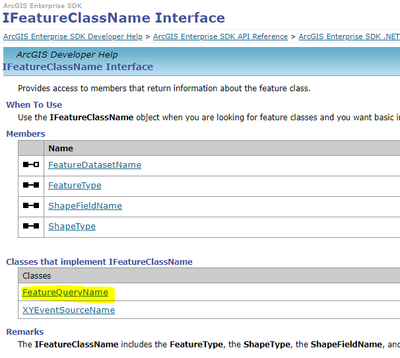 You can write similar code:
IMapServer mapServer = (IMapServer)serverObjectHelper.ServerObject;
            string mapName = mapServer.DefaultMapName;
            IMapServerDataAccess dataAccess = (IMapServerDataAccess)mapServer;
            IFeatureClass sourceFeatureClass = (IFeatureClass)dataAccess.GetDataSource(mapName, 0);

            IDataset sourceDataSet = (IDataset)sourceFeatureClass;
            IWorkspace sourceWorkspace = sourceDataSet.Workspace;

            IFeatureDataConverter featureDataConverter = new FeatureDataConverterClass();
            IWorkspaceFactory targetWorkspaceFactory = new ShapefileWorkspaceFactory();
            IWorkspace targetWorkspace = targetWorkspaceFactory.OpenFromFile($@"c:\temp", 0);
            IDataset targetWorkspaceDataset = (IDataset)targetWorkspace;
            IName targetWorkspaceDatasetName = targetWorkspaceDataset.FullName;
            IWorkspaceName targetWorkspaceName = (IWorkspaceName)targetWorkspaceDatasetName;
            IFeatureClassName shpFeatureClassName = new FeatureQueryNameClass();
            IDatasetName shpDatasetName = (IDatasetName)shpFeatureClassName;
            shpDatasetName.WorkspaceName = targetWorkspaceName;
            shpDatasetName.Name = $"Test_{Guid.NewGuid()}";

            int shapeFieldPosition = sourceFeatureClass.FindField(sourceFeatureClass.ShapeFieldName);
            IFields inputFields = sourceFeatureClass.Fields;
            IField shapeField = inputFields.get_Field(shapeFieldPosition);

            IGeometryDef geometryDef = (IGeometryDef)((IClone)shapeField.GeometryDef).Clone();

            IFields outFields = (IFields)((IClone)sourceFeatureClass.Fields).Clone();

            featureDataConverter.ConvertFeatureClass((IFeatureClassName)sourceDataSet.FullName, null, null, shpFeatureClassName, geometryDef, outFields, "", 1000, 0);
5 Replies