Regular Contributor
Mark as New

Bookmark

Subscribe

Mute

Email to a Friend
Hi Again @BruceHarold,
I am following your blog post Creating an FME Web Connection for your Enterprise Portal and am running into at least one issue:

...and in the Translation Log, I find this:
Request to update access token failed. HTTP Error: HTTP/1.1 401 Unauthorized - https://myenterpriseportal.org/portal/sharing/rest/oauth2/token
After I enter in my credentials, I get this window...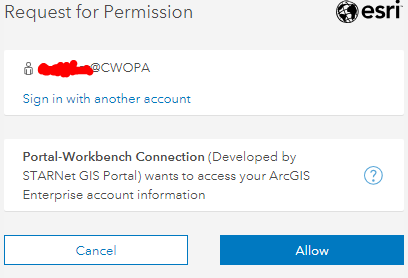 I have used my login (admin), the login that I want to use (a resource account that is used for the Enterprise admin functionality). I have tried to enter usernames in 3 different ways - and the above window correctly displays the user name as seen in Portal.
My Portal setup just uses our Active Directory for authentication and I do have the Single Sign-On experience working for our users. I do not allow anonymous user access and do not allow people to create built-in accounts. I only assign user seats through Active Directory.
My full setup...:
ArcGIS Enterprise (Portal, Server, GeoEvent Server) v10.8.1
ArcGIS Pro v2.6.3
Data Interoperability v2.6.2
FME 2020.0.1.0 (20200407 - Build 20218 - WIN64)
Any thoughts on where to start looking for the issue?
Thanks,
--Adam
1 Solution

Regular Contributor
Mark as New

Bookmark

Subscribe

Mute

Email to a Friend
After spending a few days with Customer Service, we have found that there is a bug (BUG-000136812) in my specific situation. I will explain:
My Portal WebAdaptor within IIS is set up with IWA (Windows Authentication) enabled (using Active Directory for accounts and login) AND Anonymous Authentication DISABLED to utilize Single Sign-On. My customers are not prompted for login. They are authenticated with the credentials they used to log into their machine/domain on our intranet.
Workarounds:
Enabling Anonymous Authentication on the Portal WebAdaptor. This is not a solution for me as I want my customers to have the Single Sign-On experience.
Not use the Tools - FME Options - Web Connections for the Portal Connection. Alternatively:

Manually set up the connection in a Writer (or Reader), using Kerbos Authentication. (I have not tried this.)
Manually set up the connection in a Writer (or Reader), using NTLM Authentication. This has worked for me.
The BUG has already been given a status of Not in Current Production Plan since it is an, "Authentication limitation from a third party component."
7 Replies