Occasional Contributor
Mark as New

Bookmark

Subscribe

Mute

Email to a Friend
I would like to give feedback on using serial charts in ArcGIS Dashboards Beta when they are relevant in real-time situations.
The serial chart item does not work properly when you want to see real-time data. I will show the issue using 3 screenshots. Please follow the blue dots and line
In this first screenshots (taken at 05:30 PM) you see a first blue point. This feature has a timestamp of 02:34 PM. Yet I know I also should also be seeing another blue point with a timestamp of 05:22 PM. This is not shown here.

Serial chart at 05:30 PM
When time has passed 6:00 PM, the blue line and dot with timestamp 05:22 PM is shown. At this point I should also be seeing a blue point with timestamp of 06:01 PM, but that is not the case.

Serial Chart at 6:02 PM
I think that the issue is that the category axis works with increments of 3 hours and that everything between the last shown category axis value and now is not shown on the graph.
Changing the minimum period in the data tab from minutes to seconds, doesn't help. Adjusting the size of the serial charts helps when shown in full screen (as the category axes increments change to 1 hour). The issue remains however that the feature with timestamps in the current hour are not included.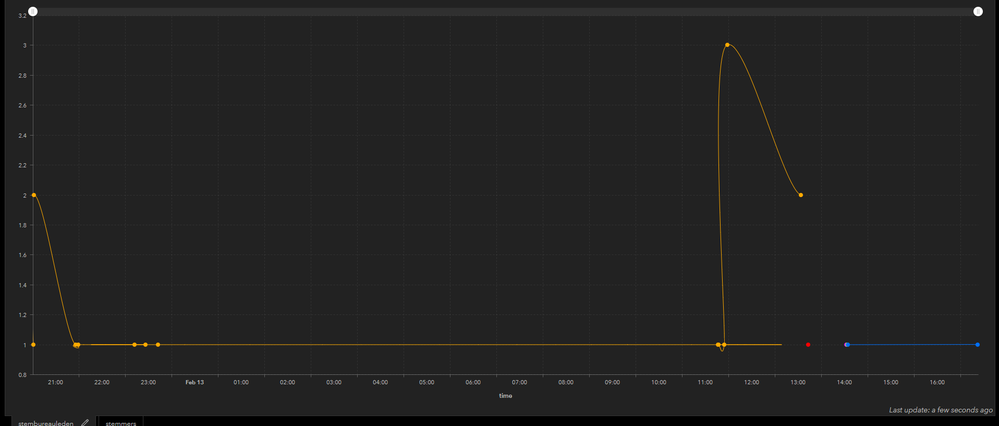 serial chart at 06:14 PM on full screen
The solution should be that the category axes shows the next increment after the latest found timestamp. This ensures that all feature values are shown on the serial chart.

best,
Jelle Stuurman
7 Replies