Mark as New

Mark as Read

Bookmark

Subscribe

Email to a Friend
Op donderdag 27 februari 2020 werd bekend dat in Nederland de eerste persoon met het coronavirus (COVID-19) is vastgesteld. Helaas is dit aantal de afgelopen twee weken toegenomen. Aangezien het virus besmettelijk is, is locatie een belangrijke component in de verspreiding van dit virus. Er zijn in het nieuws veel kaarten voorbij gekomen die allemaal op verschillende manieren de verspreiding van het virus weergeven. In het begin was dit vooral aan de hand van mondiale kaarten en dashboards. Zo is er een dashboard van John Hopkins University in samenwerking met Esri waarin het aantal besmettingen, overledenen en genezingen per land wordt bijgehouden. Die zijn zowel zichtbaar op de kaart als door de tijd. Er is ook een Hub opgericht waarin informatie rondom het virus wordt bijgehouden en verschillende informatieproducten te vinden zijn.
Er was in eerste instantie nog geen dashboard beschikbaar die specifiek de verspreiding door Nederland weergeeft. Sinds 3 maart houdt het RIVM echter bij waar de besmettingen binnen Nederland voorkomen. Op basis van deze informatie hebben wij een dashboard geconfigureerd waarin de verspreiding door Nederland en het verloop van het aantal besmettingen door tijd wordt weergeven. Zodra er een update bij het RIVM is streven wij ernaar het dashboard zo snel mogelijk te actualiseren op basis van de nieuwe gegevens. Dit wordt doorgevoerd in zowel het dashboard voor weergave op een desktop of tablet als in de mobiele weergave.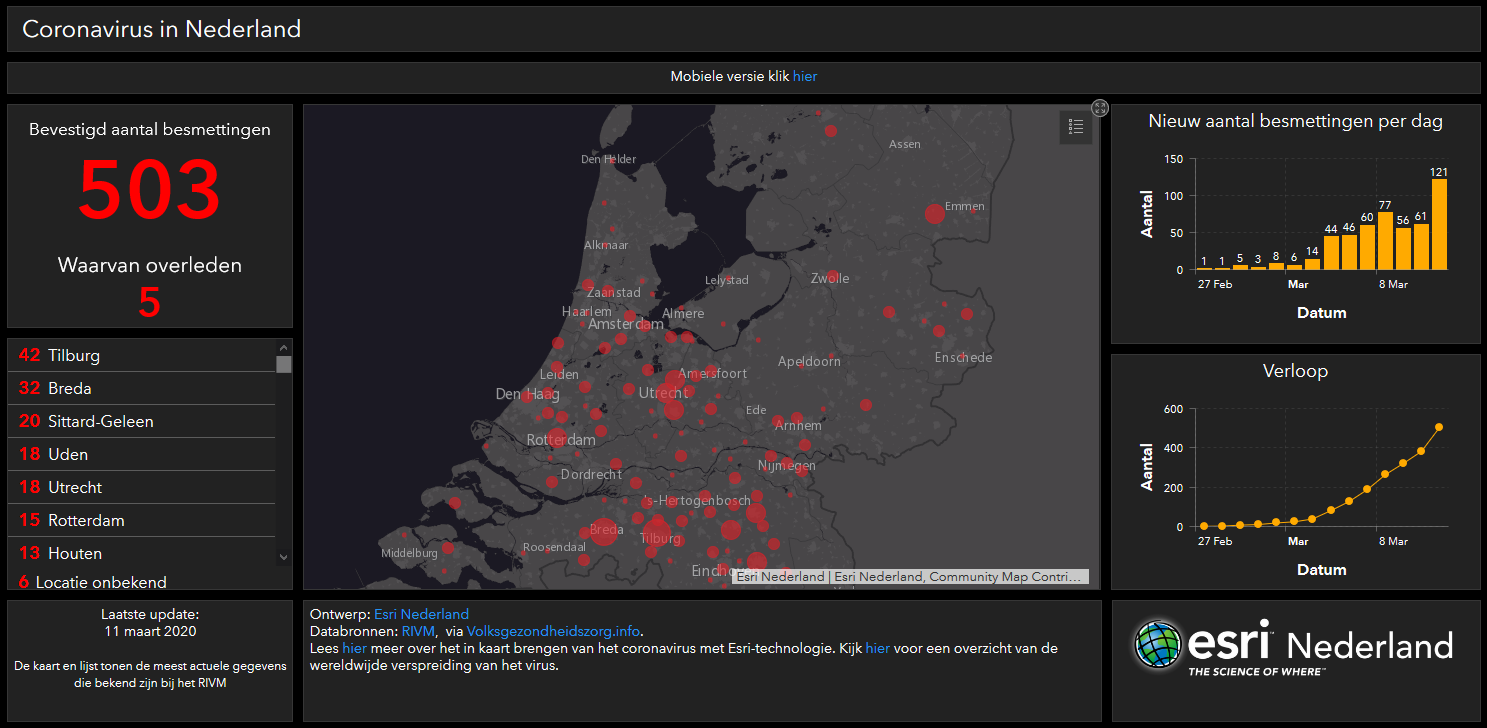 In de desktopversie van het dashboard ziet u in één overzicht het aantal besmettingen in totaal en per gemeente, zowel in tabelvorm als op de kaart. Daarnaast wordt het totaal en aantal nieuwe besmettingen per dag door tijd weergegeven. In de mobiele versie kunt u dezelfde informatie vinden verspreid over verschillende tabbladen. Hierin wordt eerst de lijstweergave met het aantal besmettingen per gemeente weergegeven, vervolgens het verloop per dag in grafiekvorm en ten slotte is het natuurlijk ook mogelijk om de verspreiding op de kaart te bekijken. In beide dashboards is ook te vinden wanneer de data voor het laatst geactualiseerd is.
You must be a registered user to add a comment. If you've already registered, sign in. Otherwise, register and sign in.