New Contributor II
Mark as New

Bookmark

Subscribe

Mute
Hi,
I am trying to print polygon filled with pictureFillSymbol. The pictureFillSymbol is available on the map, but when we print it as PDF it's not available. Any idea why it's happening? I am using ArcGIS JavasScript APi 3.39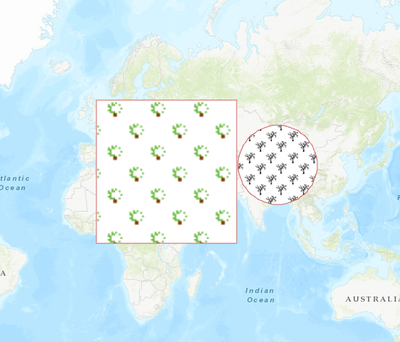 Below is the way I am using for pictureFillSymbol symbol:
https://developers.arcgis.com/javascript/3/samples/playground/main.html#/config=symbols/PictureFillS...
and PictureFillSymboll class: https://developers.arcgis.com/javascript/3/jsapi/picturefillsymbol-amd.html
Thank you for help
1 Solution

by
Noah-Sager

Esri Regular Contributor
Mark as New

Bookmark

Subscribe

Mute
Figured it out. The issue is that 3x does not automatically send the contentType for the symbology from json data to the print service. 4x does this automatically, which is why it prints there. The workaround for 3x is to add the appropriate contentType to the PictureFillSymbol constructor, like this:
"contentType": "image/bmp"
var symbol = new PictureFillSymbol({
          "url": "data:image/bmp;base64,Qk0+CAAAAAAAAD4AAAAoAAAAgAAAAIAAAAABAAEAAAAAAAAIAABtCwAAbQsAAAIAAAACAAAA////AAAAAAD/////////////////////gACAAIAAgACAAIAAgACAAIAAgACAAIAAgACAAIAAgACAAIAAgACAAIAAgACAAIAAgACAAIAAgACAAIAAgACAAIAAgACAAIAAgACAAIAAgACAAIAAgACAAIAAgACAAIAAgACAAIAAgACAAIAAgACAAP////////////////////8AgACAAIAAgACAAIAAgACAAIAAgACAAIAAgACAAIAAgACAAIAAgACAAIAAgACAAIAAgACAAIAAgACAAIAAgACAAIAAgACAAIAAgACAAIAAgACAAIAAgACAAIAAgACAAIAAgACAAIAAgACAAIAAgACA/////////////////////4AAgACAAIAAgACAAIAAgACAAIAAgACAAIAAgACAAIAAgACAAIAAgACAAIAAgACAAIAAgACAAIAAgACAAIAAgACAAIAAgACAAIAAgACAAIAAgACAAIAAgACAAIAAgACAAIAAgACAAIAAgACAAIAAgAD/////////////////////AIAAgACAAIAAgACAAIAAgACAAIAAgACAAIAAgACAAIAAgACAAIAAgACAAIAAgACAAIAAgACAAIAAgACAAIAAgACAAIAAgACAAIAAgACAAIAAgACAAIAAgACAAIAAgACAAIAAgACAAIAAgACAAIAAgP////////////////////+AAIAAgACAAIAAgACAAIAAgACAAIAAgACAAIAAgACAAIAAgACAAIAAgACAAIAAgACAAIAAgACAAIAAgACAAIAAgACAAIAAgACAAIAAgACAAIAAgACAAIAAgACAAIAAgACAAIAAgACAAIAAgACAAIAA/////////////////////wCAAIAAgACAAIAAgACAAIAAgACAAIAAgACAAIAAgACAAIAAgACAAIAAgACAAIAAgACAAIAAgACAAIAAgACAAIAAgACAAIAAgACAAIAAgACAAIAAgACAAIAAgACAAIAAgACAAIAAgACAAIAAgACAAID/////////////////////gACAAIAAgACAAIAAgACAAIAAgACAAIAAgACAAIAAgACAAIAAgACAAIAAgACAAIAAgACAAIAAgACAAIAAgACAAIAAgACAAIAAgACAAIAAgACAAIAAgACAAIAAgACAAIAAgACAAIAAgACAAIAAgACAAP////////////////////8AgACAAIAAgACAAIAAgACAAIAAgACAAIAAgACAAIAAgACAAIAAgACAAIAAgACAAIAAgACAAIAAgACAAIAAgACAAIAAgACAAIAAgACAAIAAgACAAIAAgACAAIAAgACAAIAAgACAAIAAgACAAIAAgACA/////////////////////4AAgACAAIAAgACAAIAAgACAAIAAgACAAIAAgACAAIAAgACAAIAAgACAAIAAgACAAIAAgACAAIAAgACAAIAAgACAAIAAgACAAIAAgACAAIAAgACAAIAAgACAAIAAgACAAIAAgACAAIAAgACAAIAAgAD/////////////////////AIAAgACAAIAAgACAAIAAgACAAIAAgACAAIAAgACAAIAAgACAAIAAgACAAIAAgACAAIAAgACAAIAAgACAAIAAgACAAIAAgACAAIAAgACAAIAAgACAAIAAgACAAIAAgACAAIAAgACAAIAAgACAAIAAgP////////////////////+AAIAAgACAAIAAgACAAIAAgACAAIAAgACAAIAAgACAAIAAgACAAIAAgACAAIAAgACAAIAAgACAAIAAgACAAIAAgACAAIAAgACAAIAAgACAAIAAgACAAIAAgACAAIAAgACAAIAAgACAAIAAgACAAIAA/////////////////////wCAAIAAgACAAIAAgACAAIAAgACAAIAAgACAAIAAgACAAIAAgACAAIAAgACAAIAAgACAAIAAgACAAIAAgACAAIAAgACAAIAAgACAAIAAgACAAIAAgACAAIAAgACAAIAAgACAAIAAgACAAIAAgACAAID/////////////////////gACAAIAAgACAAIAAgACAAIAAgACAAIAAgACAAIAAgACAAIAAgACAAIAAgACAAIAAgACAAIAAgACAAIAAgACAAIAAgACAAIAAgACAAIAAgACAAIAAgACAAIAAgACAAIAAgACAAIAAgACAAIAAgACAAP////////////////////8AgACAAIAAgACAAIAAgACAAIAAgACAAIAAgACAAIAAgACAAIAAgACAAIAAgACAAIAAgACAAIAAgACAAIAAgACAAIAAgACAAIAAgACAAIAAgACAAIAAgACAAIAAgACAAIAAgACAAIAAgACAAIAAgACA/////////////////////4AAgACAAIAAgACAAIAAgACAAIAAgACAAIAAgACAAIAAgACAAIAAgACAAIAAgACAAIAAgACAAIAAgACAAIAAgACAAIAAgACAAIAAgACAAIAAgACAAIAAgACAAIAAgACAAIAAgACAAIAAgACAAIAAgAD/////////////////////AIAAgACAAIAAgACAAIAAgACAAIAAgACAAIAAgACAAIAAgACAAIAAgACAAIAAgACAAIAAgACAAIAAgACAAIAAgACAAIAAgACAAIAAgACAAIAAgACAAIAAgACAAIAAgACAAIAAgACAAIAAgACAAIAAgA==",
          "height":20,
          "width":20,
          "type":"esriPFS",
          "contentType": "image/bmp"
        });
7 Replies