New Contributor II
Mark as New

Bookmark

Subscribe

Mute

Email to a Friend
After regularly using this forum as silent reader, I finally came to the point that I had to create my own post (thanks for all your help in the past! :smiling_face_with_smiling_eyes:).
I'm trying to filter a layer based on an extent. Every feature that is in the extent should be loaded/displayed, the rest shouldn't.
Example from the screenshot below: Only the labels with the "origin" point inside the orange polygon should be displayed. "Richtung Pfäffikon SZ" and "Richtung Zürich / Meilen" should not be displayed.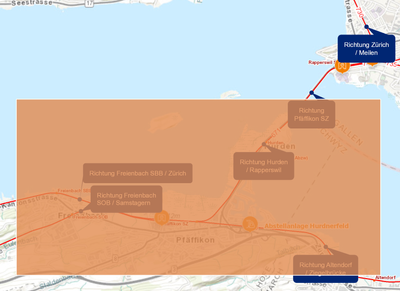 I think this would be possible with adding an attribute on these items' table, right? My problem is that this should be dynamic and I don't really want to go add this attribute/add a value for around 1M items in total.
This is why I thought about a possibility to tell the layer "load only the stuff in the given geometry". I coulnd't find anything like this in the docs and reference - maybe I'm just looking for the wrong words.
Any ideas?

Thanks in advance!
7 Replies