Occasional Contributor II
Mark as New

Mark as Read

Bookmark

Subscribe

Email to a Friend
Wer kennt das nicht: Man hat einen Feature-Service veröffentlicht und stellt im Nachhinein fest, dass ein Feld fehlt. Also Kommando zurück, Feature-Klasse in ArcMap laden, Feld hinzufügen und berechnen und den Service erneut veröffentlichen. Das gehört seit dem ArcGIS Online Release 3.4.1 (August 2014) der Vergangenheit an. Mit diesem Minor-Release ist es nun möglich, in laufenden Feature-Services Felder zu erstellen, zu löschen und zu berechnen.
Voraussetzung
Damit ich Felder in einem laufenden Feature-Service verwalten kann, muss ich entweder Eigentümer des Feature-Services sein oder über Administratorenrechte in der Subskription verfügen, in der der Service veröffentlicht wurde.
Daten
Ich veröffentliche einen eigenen Feature-Service in ArcGIS Online. So kann ich sicher sein, dass ich im Service Felder verwalten kann.
Die Daten, die ich verwende, stammen aus der ArcGIS Online Gruppe Berlin Open Data. Der Service enthält die Ortsteile von Berlin mit deren Einwohnerstatistik. Ich lade mir den Feature-Service in ArcMap und veröffentliche die Daten anschließend um meinen eigenen Feature-Service zu erhalten.
Nun füge ich den Service einer neuen Karte hinzu und öffne die Tabellenansicht für den Layer Berlin_Ortsteile - Einwohner.
Einwohnerzahl pro Ortsteil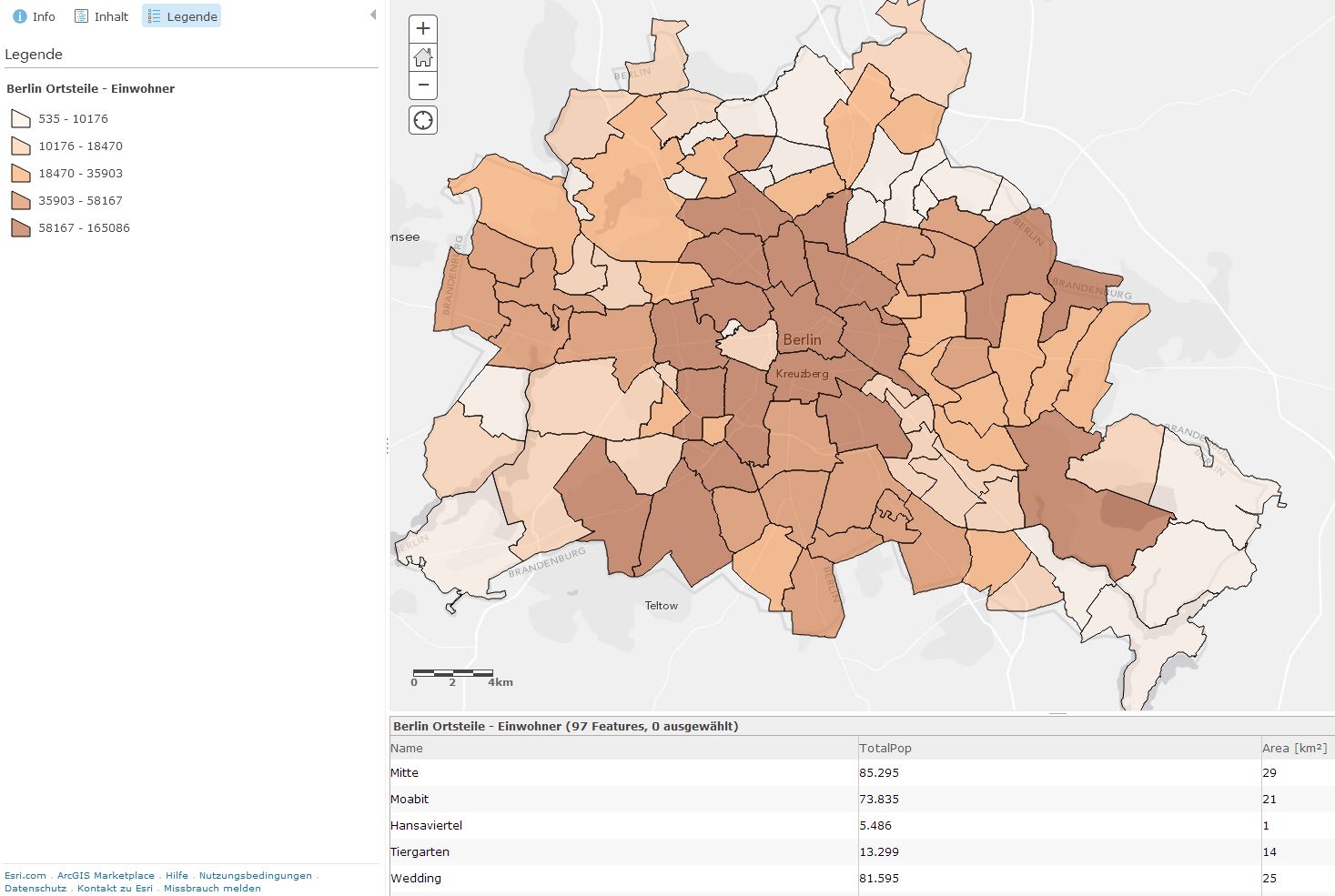 Im Moment habe ich die Karte über die absolute Einwohnerzahl pro Ortsteil symbolisiert. Mich interessiert aber vielmehr die Bevölkerungsdichte also die Einwohnerzahl pro km². Dazu brauche ich ein neues Feld, das sich aus den bestehenden berechnen lässt.
Neues Feld anlegen/berechnen
Zunächst lege ich ein neues Feld für die Bevölkerungsdichte an. In der Tabellenansicht klicke ich auf Tabellenoptionen und Feld hinzufügen.
Tabellenoptionen/Feld hinzufügen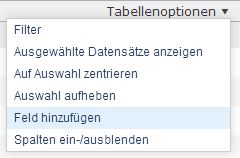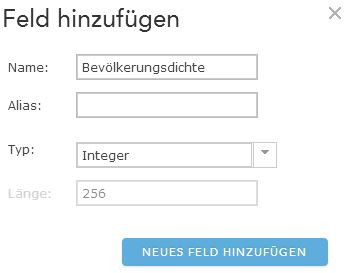 Mögliche Feldtypen: Datum, Double, Integer, String











Nun berechne ich noch das neu hinzugefügte Feld indem ich auf die Kopfzeile des Feldes klicke, Berechnen wähle und im Expression Builder die passende Berechnung formuliere.
Feld berechnen/Expression Builder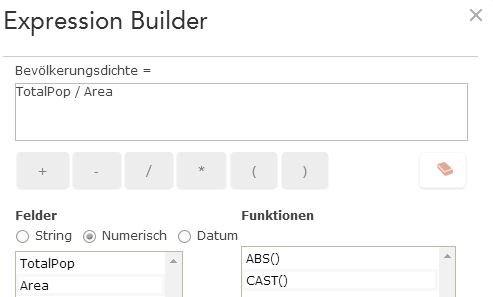 Damit ist das Feld berechnet und die Karte kann nun über die Bevölkerungsdichte symbolisiert werden.
Bevölkerungsdichte pro Ortsteil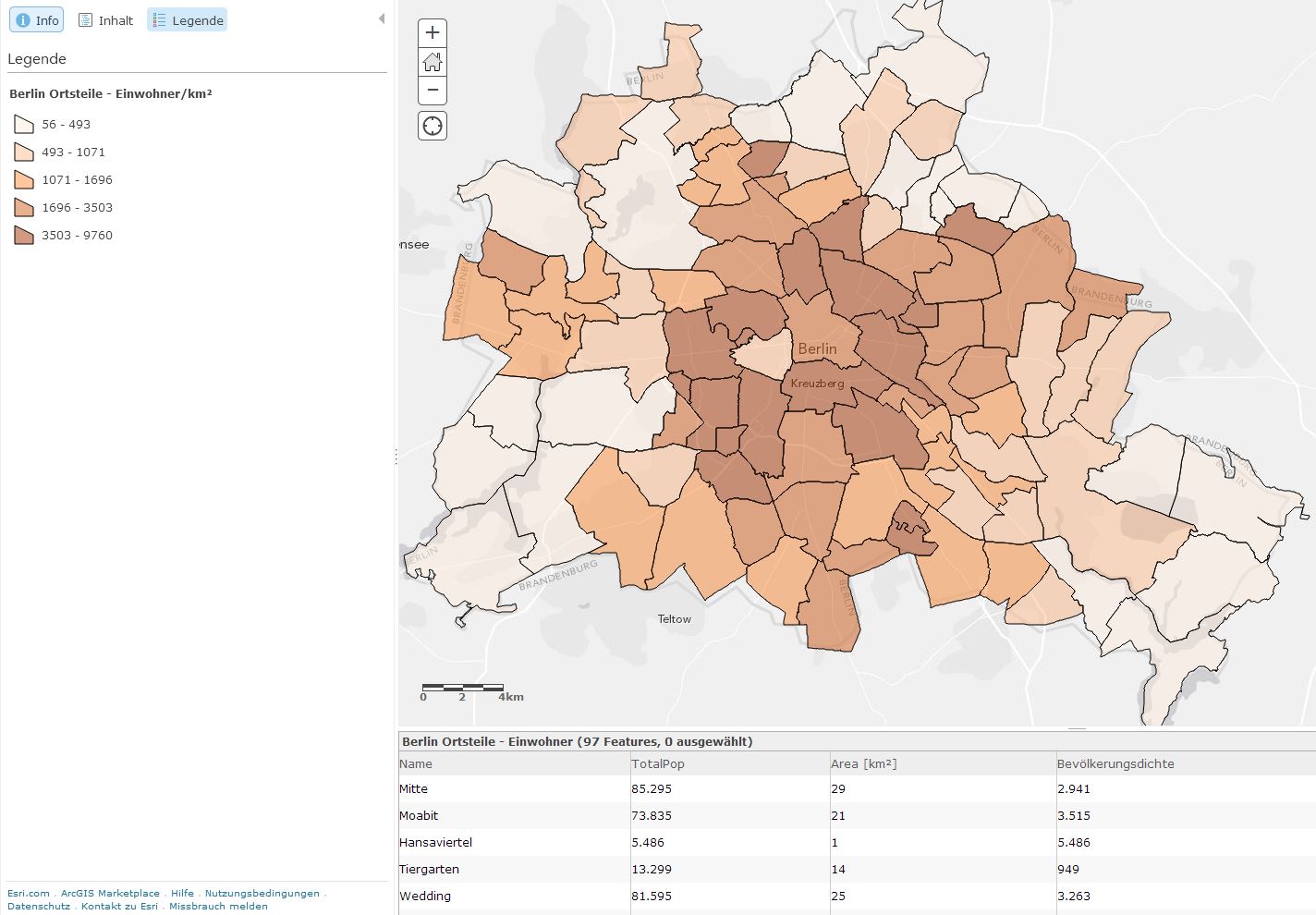 So einfach lassen sich in ArcGIS Online neue Felder erstellen und berechnen.
1 Comment
You must be a registered user to add a comment. If you've already registered, sign in. Otherwise, register and sign in.