New Contributor
Mark as New

Bookmark

Subscribe

Mute

Email to a Friend
Essentially, we have the same survey being performed over and over again on the same manhole. Each manhole is also attributed with a route name, mod date, create date and other survey fields.
We are trying to roll this up in a web map for OPS dashboard but we need to basically only show the most recent survey for each manhole. we were thinking somehow concatenate the asset + route to group the same asset and then need to only show the record that was either created most recently or modified most recently. This is what we cannot seem to get to work.
The survey was created with the online app. but if it's possible to do this only in the xls, we are willing to switch gears.
Any help would be really appreciated!
2 Replies

by
AndrewCreek

Esri Contributor
Mark as New

Bookmark

Subscribe

Mute

Email to a Friend
Thanks for posting, this is a great question and a common inspection workflow.
One way to only show the most recent inspection record is to create a join within ArcGIS Online or ArcGIS Enterprise.
This will create a hosted layer view which will be a dynamic join that keeps itself up to date without you needing to recreate it on the desktop and re-publish.
Your Survey123 data is already hosted, if your manholes are as well go to step 1 below, if not you will need to publish a copy of them to your ArcGIS Online or Enterprise Organization. If the manholes change frequently you will need to republish them or possibly look at scheduling a Modelbuilder model in ArcGIS Pro to keep them updated on a schedule.
This workflow will result in a layer with the manhole information along with the latest inspection information without altering either of the original datasets. If you would also like to have the inspection history int the dashboard you can add the survey results as a separate layer.
If you have any questions please feel free to reach out.
1. Bring your hosted Manhole layer and your Survey123 Inspection into a map with ArcGIS Online or Enterprise
2. Click on the "Analysis" tab nest to add data and the basemap selector
3. Select summarize data
4. Select Join features
5. (1) For your target layer select your manholes
6. (2) For the layer to join to the target layer select your Survey123 data
7. (3) Select choose fields to match (Manhole/ Asset ID)
8. (4) Select "Join one to one"
"Define which record is kept"
"Order By"
"Creation Date" and "Newest"
9. At the bottom there is a checkbox for "Create results as hosted feature layer view"
-Selecting this will create a dynamic join where only the most recent inspection will show.
-Not selecting this will create a static layer based on the current data that will need to be recreated every time new Survey123 inspections are created (Not Recommended)
Screenshot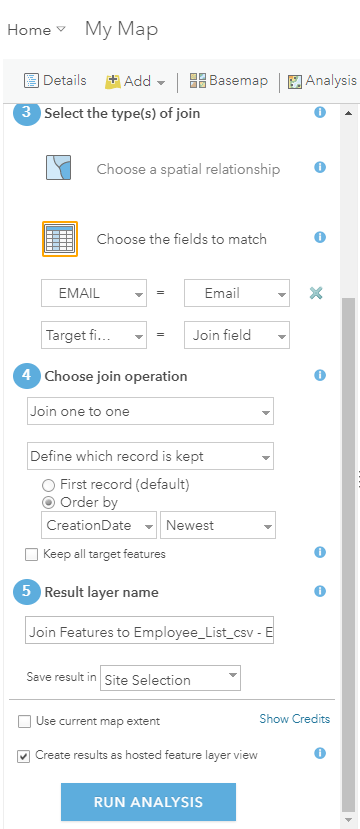 New Contributor
Mark as New

Bookmark

Subscribe

Mute

Email to a Friend
Wow! Thanks so much. We will give this a shot and report back.