New Contributor II
Mark as New

Bookmark

Subscribe

Mute

Email to a Friend
Used EBK3D on subsurface borehole lithological geological data, the geostatistical layer appears to fit the input data well as far as vertical extent and vertical exaggeration (VE). Used the GA Layer3D to NetCDF tool to convert the geostatistical layer to.NetCDF. Then added the outputted Multidimentional Voxel Layer (.nc file) the to the scene, it appears to have used the wrong vertical extent, VE or vertical datum. Even after changing the voxel layer to the same VE as the other layers, it doesn't display properly.
DEM on top, bedrock surface in red at bottom. 3D boreholes with lithologies extruded down by each unit thickness. VE 40x Sumnerville and Sister Lakes 7.5 minute quads, Cass County Mi.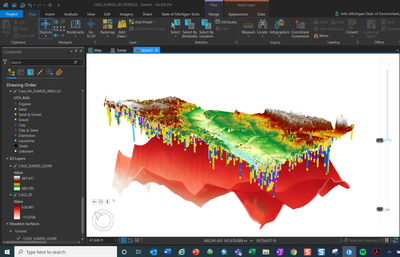 3D borehole and EBK3D geostatistical layer, good fit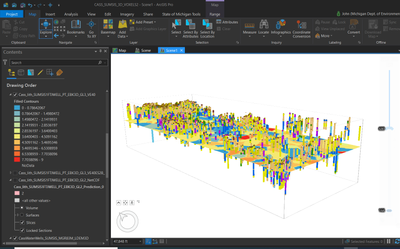 Add voxel layer, for some reason it comes in with a VE of 27.5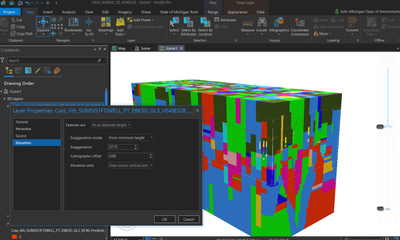 When I change VE to 40 it makes it worse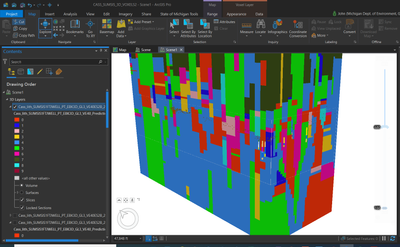 If I fudge the VE to 12.3, the voxel layer nearly matches the vertical extent of input data and the intermediate geostatistical layer. 40/3.2808 =12.2 3.2808 ft/m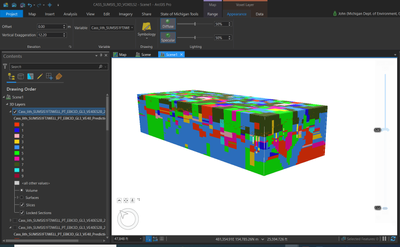 Seem to be a units (Ft or M) or VE or vertical datum issue. Have other had this issue or any suggestions on how to resolve this? Thanks
1 Reply

New Contributor
Mark as New

Bookmark

Subscribe

Mute

Email to a Friend
It was a vertical elevation datum issue. Once I started from scratch with new Local Scene and assigned a vertical elevation datum to the scene and the the data. Then the final voxel layer matched up vertically with the input data.