When using ArcSDE geodatabases, you may have noticed a change within the 10.0 release in how the upgrade process is now handled. Instead of using the Post Installation Wizard and selecting Repository Setup, as in previous releases, there is a new upgrade process. Upgrading your
geodatabase
is now performed within ArcCatalog using the new Upgrade Geodatabase (Data Management) tool.

The
Upgrade Geodatabase (Data Management) Tool
can be accessed in ArcCatalog via the Database Properties of a database connection under the General tab > Upgrade Status or within the Upgrade Geodatabase geoprocessing tool referencing an existing connection. For ArcSDE geodatabases, a direct connection to the geodatabase is necessary to run the upgrade.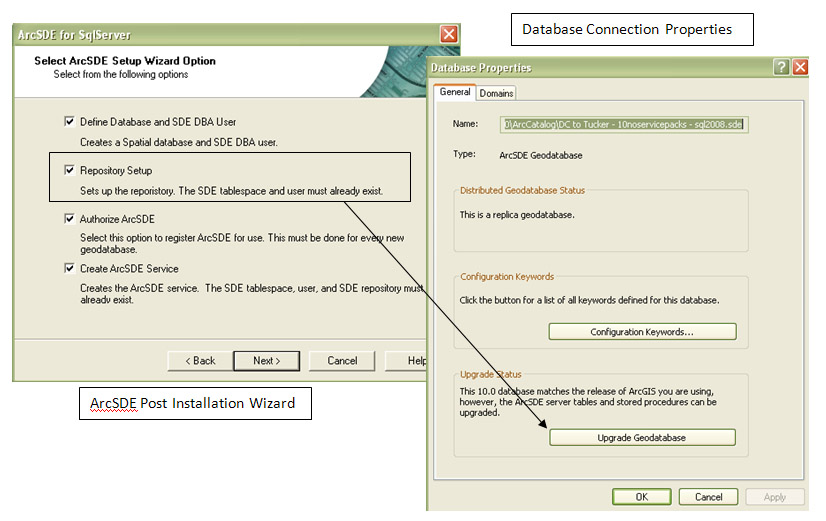 Post Installation Wizard at 10.0:
The Post Installation Wizard in 10.0 can be used for the following:
Defining Database and SDE DBA User - Creating new ArcSDE enterprise geodatabases
Repository Setup - Populate system repository tables (for new geodatabases only)
Authorize ArcSDE - Perform Software Authorization of the geodatabase
Create ArcSDE Service - If using application server service (when not using direct connections)
More changes are on the horizon to incorporate Post Installation functionality into the client tools for the 10.1 release, so stay tuned!
---