Hello, this is Cassandra again, bringing you a blog post about my favorite thing about ArcGIS Desktop 10 - the Catalog window. In a nutshell, the Catalog window provides a tree view of file folders and geodatabases, just like in ArcCatalog, but directly within ArcMap. Need to add to add a feature class, but can't quite remember where it is? Browse for it with ease in the Catalog window. Need to perform some geoprocessing and geodatabase organization but don't want to shut down out of ArcMap? Do it in the Catalog window. Getting frustrated with schema locks on your geodatabases? Just stay in ArcMap and do your processes in the Catalog window.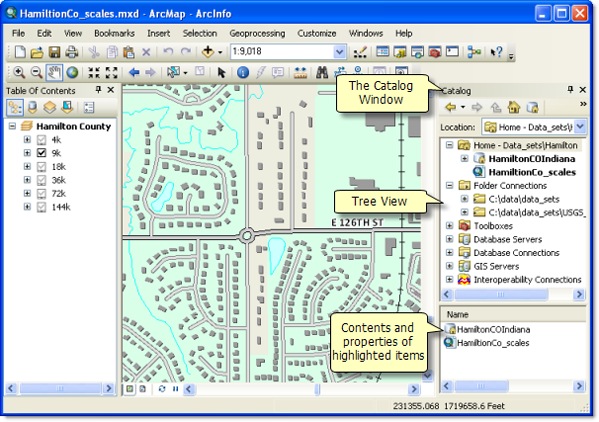 The most common question concerning the Catalog window I've seen is 'Where's the preview tab?'. This question is easily understandable, especially since the Catalog button on the ArcMap Standard toolbar now opens the Catalog window, not ArcCatalog.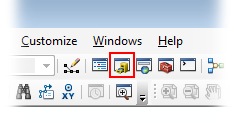 There is neither a Preview nor metadata tab directly available in the Catalog window. However, you can preview the data, view the metadata and more by right-clicking on the item and then select Item Description. The Item Description dialog box gives you access to view, print, edit, validate, export and import the metadata on the Description tab, as well as previewing the geography and table of the item on the Preview tab.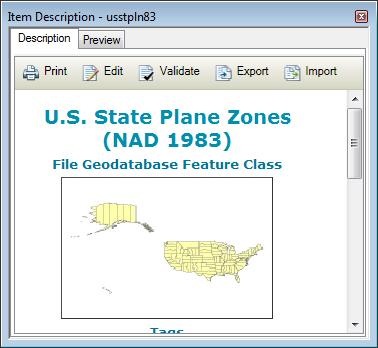 The Catalog Window includes a choice of three views as well. You can cycle through them by clicking the 'Show Next View' button.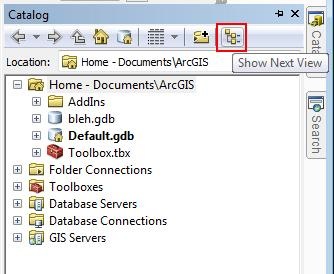 For more information on the Catalog window, see the following help topic: What is the Catalog window?</A>

Please leave any comments or questions that you may have under the Comments section below. NOTE: You must be logged in to your Esri Global Account to leave comments.

- Cassandra L., Desktop Support Analyst, Esri Support Services
---