It happens all the time – I'll be on the phone with a user who needs some help with an unfamiliar function or extension and they'll ask the question, 'how did you get so good at this?'
As much as I would love to credit my fancy college degree or my natural inclination to know-it-all, I have to be honest – I learned on ArcView 3.3 in university (which doesn't help me much now), and I definitely do not have a psychic ability to glean answers from the great beyond.
So, if I did not 'get so good at this' from my university studies, and I don't spend weekends working for a psychic chat line, then where did I learn all of this? The answer is simple. I learned just like you are now: reading blogs and forums, studying the Help documents, asking questions of others, taking Esri Instructor-Led and Virtual Campus classes, and trying things over and over again until I found the correct answer.
If your company has a training budget, then signing up for an Esri Instructor-Led or Virtual Campus course is a great way to learn about GIS. Instructor-Led courses no longer require you to travel to an Esri training site; Virtual Campus classes have been created so you can learn from an instructor via the Internet or video conference. In addition, the Virtual Campus classes are a less expensive and self-paced option to get training on a variety of products and technologies. More information on these training options can be found by going to the training site.
Now some of you may be saying, "The company I work for doesn't have a training budget right now. How can I learn without training!?"
The answer is simple. With the purchase of ArcGIS Desktop 9.x or 10, you receive free, and I mean totally free, and useful training materials. Since free is my favorite price (and probably the favorite price of the company you work for), this would be a great option for learning more about GIS.
First things first, you need to install ArcTutor using the Complete option. ArcTutor comes with your ArcGIS Desktop Installation disk. If you aren't sure if ArcTutor was installed, you can check by going to Add/Remove programs and looking for the following:



If it is not installed and you are not the keeper of the disks, please contact your IT department and request they install the ArcTutor disk using the Complete option.
Once you are sure ArcTutor is installed, you will have access to dozens of tutorials that will help you learn the software.
If you are using a 9.x version, simply navigate to the following location in Windows Explorer: C:Program FilesArcGISDocumentation.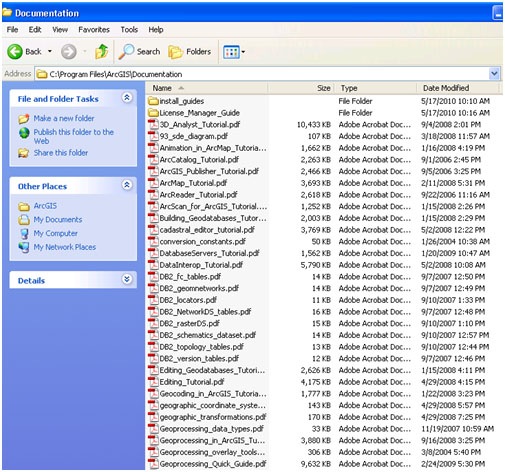 Here you will find an assortment of tutorials that walk you through exercises using the ArcTutor data.
If you are using 10, accessing tutorials is as simple as looking in Help. I would recommend using the Web-based 10 Help, because it is updated frequently versus the Help dialog box installed on your own system, which is only updated when you install a service pack. Keep in mind that ArcGIS 10 is a major release; new documentation and tutorials are in the process of being written, and any new tutorials will be available via Web Help before being available on your locally installed version. To link to the tutorials on Web Help, click here.
If you need to use your locally installed Help dialog box, open Help and go to Essentials Library > Getting started with ArcGIS > ArcGIS Tutorials.
Use these tutorials to get familiar with processes, functions, or extensions for free. Soon YOU will be answering the question 'how did you get so good at this?'.
Please provide any questions or comments that you may have via the comments section below this post. NOTE: You must be logged in to your Esri Global Account to leave comments.
-Allison R., Technical Account Lead, Esri Support Services
---