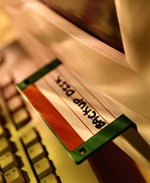 Have you ever had that sinking feeling in your stomach when you realize your data has become corrupt, and you must now perform a restore from your database backup…wait, what backup?? The only time you recall backing up was in your car when you left your house this morning.
Picture this: You finally decide to take a vacation, so you have left your database running in the good hands of your co-workers. Just as you sit back in your lounge chair on the beach, your cell phone rings. The disk drive has crashed, and even though you have performed scheduled backups, you aren't in the office to actually perform this urgent restore, and only you know the steps to take. This can mean only one thing: manually walking your co-workers through a database restore process over a costly phone call, thousands of miles away, while your vacation time quickly slips by, …oh the dread.
Hello, this is Elaine, a Support Analyst within the Geodata unit at ESRI Support Services located in Charlotte, NC. I have been with ESRI for almost nine years working as an Instructor and Technical Analyst within ESRI's Professional Services division and now as a Support Analyst within ESRI's Support Services. Over the years, I have heard of many stomach-wrenching scenarios from clients who have run into various backup and restore situations such as the ones listed above, and I have a few tips that I would like to pass on to you to in order to be prepared!
Backup, Backup, Backup!! - When analyzing your backup strategy, the most important question to ask yourself is, "What can I afford to lose?" The data that is utilized within your company's GIS is the most valuable asset, and without data, the software alone isn't going to help much. It is vital when storing your data within an ArcSDE database to perform regular and scheduled backups that fit your company's GIS needs. There are many variations of backups depending on the RDBMS that is being utilized. Determining the frequency of your backup is largely based on the volume of edits that are taking place on the data.
For example, when using SQL Server in a GIS environment involving medium to high write frequency to the data, you might consider establishing a combination of a Full Database backup weekly, a Differential Database backup daily, and a Transaction Log backup every four hours.
To access additional information pertaining to creating backups and restoring databases for each DBMS, review the following links:

Test your backup!! - Having a backup isn't going to do much good if you have never tested the process of actually restoring your database from backup: knowing how a restore works, what the steps and procedures are that would need to be executed, and whether or not the current backup plan is going to provide the best restore with the least amount of data loss. Again, keep in mind the question: What can you afford to lose? For additional information, please review the following link on ESRI's Desktop Help: About database backup and recovery.



Finally, put together your own Emergency Operating Procedures Manual that is easily accessible and is written with the highest level of detail. So, if you happen to be on vacation and the only person in the office when a restore must be performed is your newly-hired GIS intern, you can simply say, "Open the EOP Manual to page 1, follow all the steps outlined, and call me if you run into any issues".
Knowing that you have already accounted for every possible step and potential question, you can quickly get back to soaking up the sun on your lounge chair on the beach!
- Elaine E., Support Analyst - Geodata Unit, ESRI Support Services, Charlotte, NC.
---