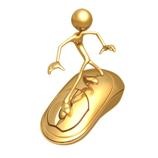 Top Ten Most Helpful ArcGIS Server Help Topics Countdown
Emeline here again! I polled the ArcGIS Server Usage team and came up with a list of 10 (well, actually, 11) topics that we use and recommend to customers every day. No matter how you use ArcGIS Server, whether you are an administrator, developer, or the analyst responsible for making the maps and models, these topics are worth adding to your Favorites folder! 
10.
Performance tips for web applications
: What's the best way to make a fast web mapping application for my customers? The tricks are in here. 
9.5.
Tuning and configuring services
: What do all those service properties mean, anyway? Make your services work the way you need them by understanding these important configurations. 
9.
Working with configuration files
: Need more from your services? Check out what you can change that isn't available in the user interface… but make sure you make a back up first. 
8.
Checklist for authoring and publishing geoprocessing services
: Your one-stop-shop for making sure your geoprocessing service won't fail in ArcGIS Server. Includes links to all the other geoprocessing topics, too. 
7.
Authoring maps for publishing as KML
: Includes all the important steps to keep in mind when preparing your map for KML capabilities. 
6.
Firewalls and ArcGIS Server
: Firewalls are common in today's system architecture, so make sure your's is letting the good stuff out and keeping the secure stuff in. 
5.
Java: Managing GIS Server User accounts on Linux/Solaris
: Get familiar with how Linux and Solaris handle the ArcGIS Server accounts. 
4.
Tips and best practices for map caches
: While caches will help with performance, they are too space and time consuming to be created without checking out this best practices doc first. 
3.
Common problems and solutions
: 'nough said. 
2.
Preparing resources for publishing
: The ArcGIS Server Object Container (ArcGISSOC) account is the quarterback in the Server game. It has to know all the plays and all the players. Use this topic to verify that the SOC has permission to all its resources. 
1.
Configuring a multiple-machine deployment
: The granddaddy of ArcGIS Server help topics! If you have more than one machine in your configuration, bookmark this topic! Accounts, directories, and permissions… everything you need to know to set up your machines.
---
- Emeline R., Support Analyst, ArcGIS Server Unit, ESRI Support Services