Recently I was invited to give a keynote address at the 2011 
GI-Forum
 at the University of Salzburg, and created a map in
 ArcGIS Online
 that I used as my guide to the local physical and cultural geography. I shared it so that the other conference attendees could also use it, on 
http://esriurl.com/giforumsalzburg
. I described this procedure 
in a recent blog
 entry but then went one step further: I used the same tool to create the keynote presentation that I gave at the conference. This presentation contains 57 slides and by searching for "GI-Forum" on ArcGIS Online, you can view it and use it to spark your own presentation ideas.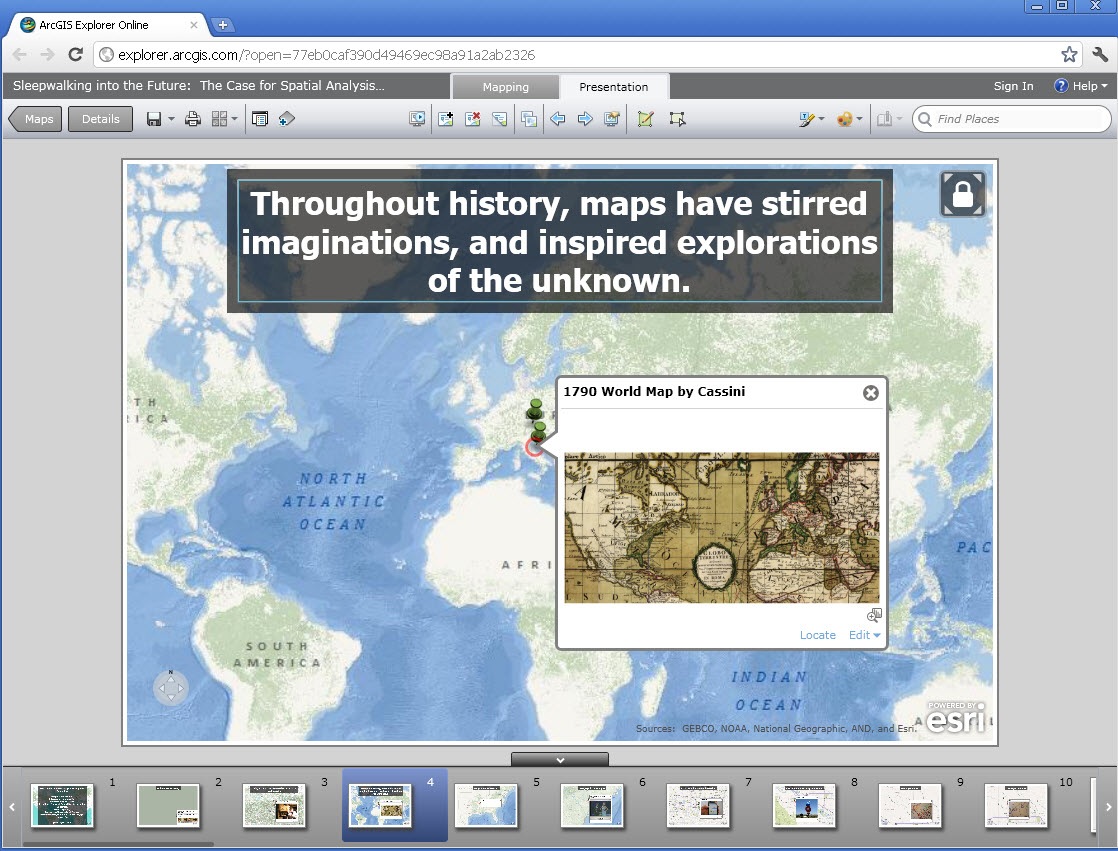 I varied the basemaps and methods throughout the presentation to keep the audience interested, and I found that ArcGIS Online offered a number of significant advantages. First, since ArcGIS Online is map-based, I could tie each of the points in my presentation to points on the maps. Second, the dynamic nature of the tool meant that at any point during the presentation, I could respond to questions from the audience and zoom to any location on the Earth, changing the basemaps or adding new content to respond to the question. After responding, I could easily resume the slides I had set up ahead of time. Third, I can now respond to those who are contacting me to find out if they can view it, simply by pointing them to ArcGIS Online. Fourth, I could easily go back and forth between my presentation and the local map with points of interest that I had created using the same tool.
Fifth, as we all know when working with technology, the unexpected can and will happen. On a practical level, using ArcGIS Online for the presentation saved the day when my computer would not communicate with the projector in the lecture hall at the University of Salzburg. At the last minute, we substituted a computer from one of the faculty, and because the presentation used ArcGIS Online, I did not have to worry about transferring files or whatever presentation software they might have had on the university's computer. Rather, I was able to access and give my presentation right away!
How might you or your students use ArcGIS Online for an upcoming presentation or report, and how might you assess that presentation in the classroom?
- Joseph Kerski, Education Manager