A principal aim of geospatial analysis is examining and understanding change over space and time. One of the simplest yet most powerful things you can do in ArcGIS desktop (
www.esri.com/arcgis
) or in ArcGIS Online (
www.arcgis.com
) is to visualize change over time by studying change based on different basemaps created on different dates.
For example, I recently conducted a GIS workshop for educators at Northeast Junior College in Sterling, Colorado. While on campus, in ArcMap, I added satellite imagery as well as the USGS topographic map. I determined the date of the topographic map (1971) by accessing the USGS Map Store. I found the date of the satellite imagery (2009) by using the Identify tool in ArcMap on the imagery layer. I used the swipe tool so I could scroll back and forth across the map to easily compare the different basemap images.
The nearly 40 years of changes revealed by comparing the topographic map to the satellite imagery indicated that the name and the location of the college had changed. The college had changed from Sterling Junior College to Northeastern Junior College, and had expanded from the northeast to the southwest. The current location of the college is the former Logan County fairgrounds. After mapping the route we took during our fieldwork with GPS receivers that day (shown in dark yellow on the map below), we discovered that we were on the old fairgrounds track. We could trace the fairgrounds track and then walk that same route on the current campus, noting what had changed.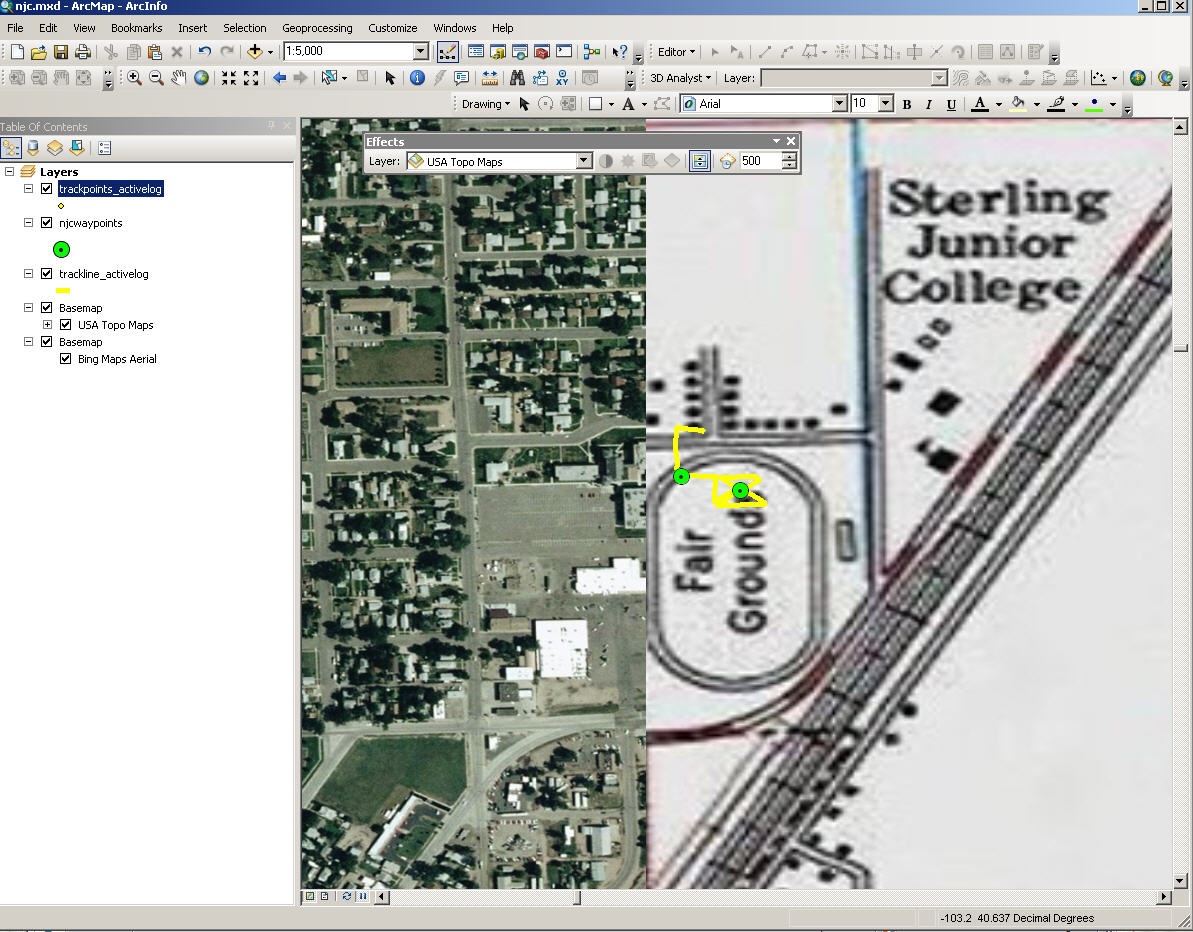 Comparing the two basemaps revealed changes beyond the campus, including the direction that Sterling had expanded over the decades, the expansion of commercial zoning into former residential areas, and even the renumbering of the interstate from I-80S to I-76. In ArcMap, we measured the areal extent of the city in 1971 and today, compared the percentage of expansion to other communities in the area and other communities of a similar size in the region, and examined population data of these communities.
How might you analyze change over time using topographic maps and imagery of an area you are interested in?
-Joseph Kerski, Education Manager